LOW PRESSURE SHOWING SIGNS OF  LIFE OFF SOUTHEAST COAST
THUNDERSTORMS HAVE INCREASED THIS AFTERNOON
LESLIE WEAK IN CENTRAL ATLANTIC, KIRK NO LONGER A TROPICAL DEPRESSION
We still have Subtropical Storm Leslie in the Central Atlantic and it has not gotten any stronger. It continues to be under the influence of a strong upper air storm keeping the system subtropical and it remains a minimal subtropical storm. It hasn't moved much in the last 24 hours and will continue to mill around for the next several days.
…LESLIE DRIFTING EASTWARD OVER THE CENTRAL ATLANTIC…NO CHANGE
IN STRENGTH…
SUMMARY OF 1100 AM AST…1500 UTC…INFORMATION
———————————————–
LOCATION…32.5N 48.0W
ABOUT 1240 MI…1995 KM W OF THE AZORES
MAXIMUM SUSTAINED WINDS…40 MPH…65 KM/H
PRESENT MOVEMENT…E OR 90 DEGREES AT 5 MPH…7 KM/H
MINIMUM CENTRAL PRESSURE…1004 MB…29.65 INCHES
WIDE ATLANTIC TROPICAL SATELLITE

Meanwhile Tropical Storm Kirk has weakened and there is no longer a closed circulation associated with it. The remnant system continues to move westward at about 20 mph and it is possible it could regenerate over the next day or two. However winds aloft just east of the Leeward & Windward islands are hostile for any tropical system that moves toward it. If it does regenerate it is likely to weaken again as it nears the islands later this week.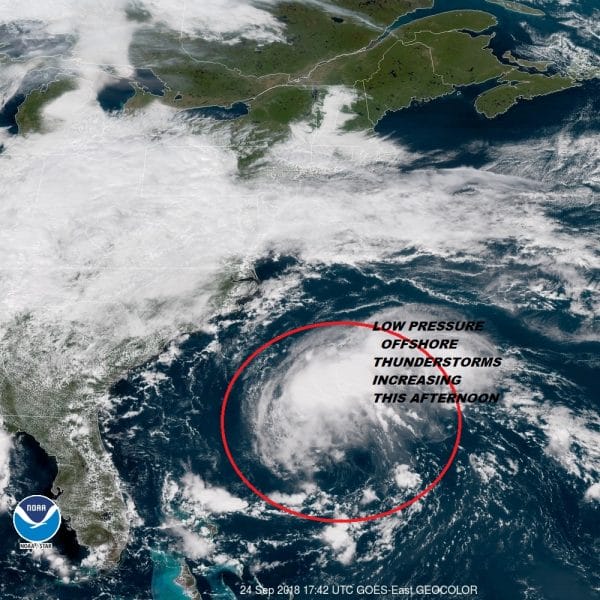 Low pressure continues to move westward toward the Southeast US coast. Since last night we have noticed a marked increase in thunderstorm activity however the low remains disorganized. Conditions aloft are slightly conducive for some development and the National Hurricane Center has increased the chance for development to 50 percent. However the window for development is small. As the low nears the coast later Tuesday upper level winds in association with an approaching cold front in the Ohio Valley will increase. None of the global weather models show this strengthening much. We still think it ultimately becomes absorbed in the frontal system.
SUBSCRIBE TO PATREON FOR A WEATHER EXPERIENCE FREE OF ADS, EXCLUSIVE VIDEOS FOR MEMBERS ONLY AND MUCH MORE…STARTS AT $2 A MONTH..MESSAGE ME AT ANY TIME

Please consult your local National Weather Service office at weather.gov for the latest information on any tropical or storms or hurricanes that could be a threat to your area. Consult your local government officials regarding action you may need to take to secure life and property
FiOS1 News Weather Forecast For Long Island
FiOS1 News Weather Forecast For New Jersey
FiOS1 News Weather Forecast For Hudson Valley
LATEST JOESTRADAMUS ON THE LONG RANGE