Lots of Sun Friday Severe Thunderstorm Risks Saturday & Monday
But A Nice Sunday
Lots of Sun Friday Severe Thunderstorm Risks Saturday & Monday
But A Nice Sunday
We continue in every other day mode, where we get into a lower humidity sunshine warm type of day in between cold fronts and that is where we are this Friday. Yesterday's cold front and rain are long gone to the east and we have dry air and sunshine to finish the work week. It will be a very warm day with highs in the low to mid 80s and dew points will be in the 50s. Enjoy it! We have no thunderstorm risks today and the radars will remain nice and quiet.
SATELLITE WITH LIGHTNING STRIKES

WEATHER RADAR

In summer conditions at night matter more than during the day as no one wants to sleep in a hot humid air mass at night. Tonight the dry air holds under a clear skies with lows in the 60s. Dew points will start to come up during the daytime Saturday and they will climb quickly by afternoon into the mid and upper 60s. We have an approaching weather front and that front will set off thunderstorms late in the day Saturday and Saturday night in east to west fashion.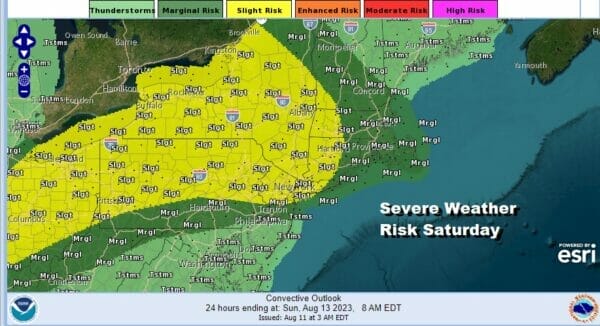 The initial outlook from the Storm Prediction Center  for Saturday was for a marginal risk however that has now been raised to a slight risk for severe weather and we also have slightly elevated tornado risk of 2 percent for much of the slight risk zone. Saturday will be hot and increasingly humid with sunshine and the the chance for late showers and thunderstorms. Highs will be in the mid 80s to around 90 degrees.
Sunday brings a shot of drier air so the dew points will drop into the reasonable upper 50s and lower 60s. We will see sunshine Sunday take highs again to the mid 80s to near 90 degrees. Sunday we will have more of a west wind which means the beaches will be just as hot as inland areas but at least the humidity will be reasonable.
The character of Monday has changed somewhat over the last couple of days. Initially it looked to set up much like the severe weather outbreak we had back on Monday 8/7/2023 which covered much of the East Coast. It seems that this system is evolving a bir differently as the upper air is a bit less dynamic.
Monday will mark the next transition into a more humid air mass but it comes with a warm front approaching with some rain Monday morning. Then the warm front pushes into New England though how far north and east it gets remains to be seen. Between the warm front there will be some showers and thunderstorms and I think that some of them could be severe but they seem less organized. We will see what SPC does with this when it comes in range later today.
The high temperature map for Monday shows the warm front having trouble in Southern and Southeastern New England with highs in the upper 70s to lower 80s while in Central and South Jersey well as Eastern Pennsylania, highs will be in the mid to upper 80s. After some morning rain look for some late day thunderstorms. The strength will hinge on how much daytime heating occurs. Once this cold front passes Tuesday we have what looks like nearly 3 solid days of sunshine seasonal temperatures and low humidity with the next cold front not due until next Friday!
MANY THANKS TO TROPICAL TIDBITS FOR THE USE OF MAPS
Please note that with regards to any severe weather,  tropical storms, or hurricanes, should a storm be threatening, please consult your local National Weather Service office or your local government officials about what action you should be taking to protect life and property.
(Amazon is an affilate of Meteorologist Joe Cioffi & earns commissions on sales.)