DOWNLOAD MY NEW FREE JOESTRADAMUS WEATHER APP FOR ALL DEVICES
THE APP IS ABSOLUTELY FREE TO ALL BUT CONSIDERING SUBSCRIBING TO PATREON FOR A WEATHER EXPERIENCE FREE OF ADS, EXCLUSIVE VIDEOS FOR MEMBERS ONLY AND MUCH MORE…STARTS AT $2 A MONTH..MESSAGE ME AT ANY TIME
Long Range Weather Active Pattern Slowly Relaxes
The satellite loop continues to show the vigorous upper low to the west and the conveyor belt of clouds and showers running up along the coast just offshore. We still have to wait for the upper low to move to the east and we have to wait for it to weaken. The weakening process has started and now we wait for the shift eastward which will occur over the next 2 days. A nice dry slot developed inland today across much of Pennsylvania and Upstate NY but unfortunately the upper low and the slow movement complicate things over the next few days.
SATELLITE

REGIONAL RADAR

Showers have shifted far enough east now so that the conveyor belt of rain is mostly offshore except for showers and downpours still clipping Eastern Long Island and Southern New England. That belt will remain close to us through Monday night and at some point it is possible that some showers could buckle back northwestward as a weak wave develops on the frontal zone.
LOCAL RADAR NEW YORK CITY
Radars are nice and quiet to the west so we don't expect much to happen tonight with skies partially clearing out and temperatures settling in the 40s by morning. Easter Sunday will probably start with some breaks of sun but the upper low to the west starts to slide eastward plus we will still have the clouds to the east so look for clouds to develop on Sunday and a pop up shower can't be ruled out. The chance for a shower is low so for many of you Sunday will be ok. Highs will reach the 60s.
Sunday night through Monday night we will be watching for another wave to develop on the offshore front and this brings the chance for some rain or showers at some point Monday into Monday night. This won't bring big rains here but more of a nuisance than anything else. Monday's highs will be in the 60s.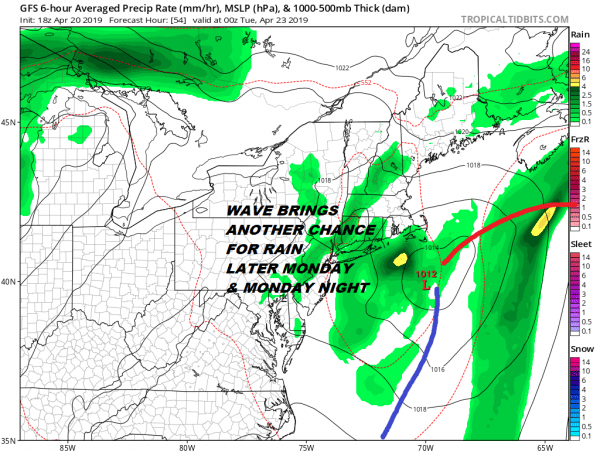 Finally on Tuesday we should see a day without rain from start to finish during the day with some sunshine with highs in the 70s. Enjoy it because another cold front arrives Tuesday night with a chance for showers Wednesday morning.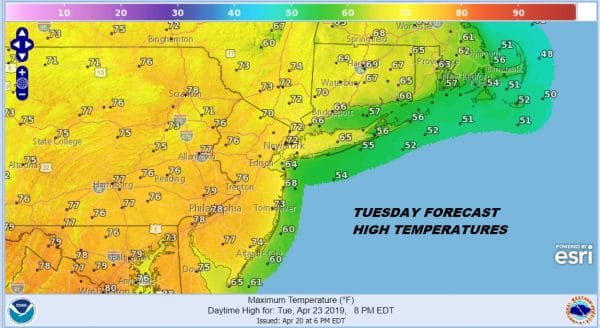 LONG RANGE ACTIVE PATTERN SLOWLY RELAXES
With this oh so typical rainy April heading toward the home stretch we see some signs of changes in the overall upper air pattern. It doesn't mean it stops raining but we may be able to string together more than 24 hours of decent weather. The trough pulls out of the east in the long range and a ridge of high pressure aloft pops up. Also the weather systems coming eastward don't seem quite as vigorous as the ones from the last few weeks.
The trough in the west keeps storminess there. What we can't determine at this point is the usual issues with surface highs to the north and onshore flows that could always develop out of nowhere this time of year. Those are short term issues but at least the big storm systems of recent weeks are done and we can settle in to a more relaxed pattern going forward.
MANY THANKS TO

TROPICAL TIDBITS

FOR THE USE OF MAPS
Please note that with regards to any tropical storms or hurricanes, should a storm be threatening, please consult your local National Weather Service office or your local government officials about what action you should be taking to protect life and property.