Long Range Forecast Colder & Dry
Long Range Forecast Colder & Dry
There is no rule that says that when it's cold it has to be stormy. A cold dry flow does tend to wake up the lake effect snow machines in upstate New York and the Great Lakes but it doesn't do much for our area from the standpoint of snow. At least for the next 7 days it seems that we will be in a colder dry pattern. By colder it won't actually be that cold. Temperatures will be seasonal to the occasional days of below average. We have been above average for the last 2 weeks and January in the New York, New Jersey area is running 5 to 7 degrees above average though the snowfall has been about average.
LONG RANGE FORECAST CANADIAN MODEL WEDNESDAY FEBRUARY 1, 2017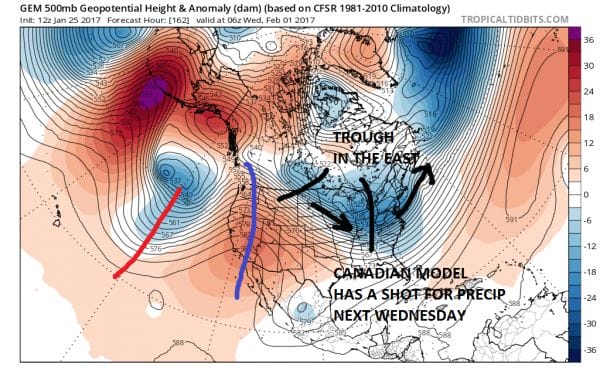 Only the Canadian model seems to allow room for something next Tuesday night into Wednesday as it leaves enough room for a trough to sharpen a bit and swing through the northeast. However the other models leave little room and it would be just another cold front.
LONG RANGE FORECAST GFS MODEL
Beyond this period we can see a system that is coming into the west later next week but at this point who knows how that plays out since it is too far out into the long range to even consider at this point. After next week there is model confusion beyond day 10 as models all look completely different at that point. This makes it rather pointless to speculate on the broad picture given what we see today. We can say that no big storms are on the horizon and we are entering a period of cold and calm.
MANY THANKS TO TROPICAL TIDBITS FOR THE WONDERFUL USE OF THE MAPS
SNOW REMOVAL COMPANIES FOR YOUR WINTER NEEDS
             LONG ISLAND                                ROCKLAND COUNTY                   Connecticut
     ROCKLAND COUNTY                         TRI STATE SNOW REMOVAL                           JOHNSTOWN PA
FiOS1 News Weather Forecast For Long Island
FiOS1 News Weather Forecast For New Jersey
FiOS1 News Weather Forecast For Hudson Valley
NATIONAL WEATHER SERVICE SNOW FORECASTS
LATEST JOESTRADAMUS ON THE LONG RANGE
Weather App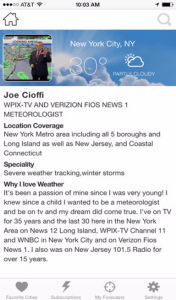 Don't be without Meteorologist Joe Cioffi's weather app. It is really a meteorologist app because you get my forecasts and my analysis and not some automated computer generated forecast based on the GFS model. This is why your app forecast changes every 6 hours. It is model driven with no human input at all. It gives you an icon, a temperature and no insight whatsoever.
It is a complete weather app to suit your forecast needs. All the weather information you need is right on your phone. Android or I-phone, use it to keep track of all the latest weather information and forecasts. This weather app is also free of advertising so you don't have to worry about security issues with your device. An accurate forecast and no worries that your device is being compromised.
Use it in conjunction with my website and my facebook and twitter and you have complete weather coverage of all the latest weather and the long range outlook. The website has been redone and upgraded. Its easy to use and everything is archived so you can see how well Joe does or doesn't do when it comes to forecasts and outlooks.
Just click on the google play button or the apple store button on the sidebar for my app which is on My Weather Concierge. Download the app for free. Subscribe to my forecasts on an ad free environment for just 99 cents a month.
Get my forecasts in the palm of your hand for less than the cost of a cup of Joe!