Long Island Weather: Very Cold Weather Monday & Tuesday
As the pattern change process continues we are about to see the first shot of cold air this winter. The freezer door is open for about a day and a half as a deep trough and the polar vortex strengthens in Eastern Canada. This is a pretty impressive shot of cold air coming down and we will see temperatures drop into the teens and single digits Monday night into Tuesday morning. Long Island weather will take a sharp drop down in temperatures. When the cold air arrives Monday there could be a burst of snow in a few places.
Temperatures will drop and Tuesday will be the coldest day we have seen in over 10 months with temperatures in many areas not out of the 20s on Tuesday. Tuesday morning we will be in the teens for the first time island wide since March. Long Island weather is changing from spring to winter in a hurry.
Until then we will have some quiet weather over the weekend with clouds and some sunshine today and highs in the low to mid 40s everywhere. Tonight should be clear with lows in the mid 20s to low 30s. Saturday will be colder with some sunshine and highs in the upper 30s  and low 40s. Sunday we should be dry again with sunshine giving way to arriving clouds with highs in the low to mid 40s.  Sunday night cold air starts to come in and then we wait for the upper trough described above to bring in the coldest of the cold air Monday night and Tuesday.
Now once the cold air pulls out after Wednesday the freezer door will close for a bit but the refrigerator door will remain open. Wednesday morning temperatures will moderate and then we transition to a stormier pattern. By late next week you can see 3 storms lined up in the southern half of the jet stream
The first one for late next week is offshore and of no consequence but it is evidence of the strong subtropical jet stream sending storms moving along in the new weather pattern that has emerged. The next 2 systems will impact our weather and that will depend on a number of factors including how much blocking is going on at the time. This will determine track and strength. It is the 3rd system that probably has the strongest potential to pose problems in the east. The time frame for that would be around January 11-12.
Here is the overnight GFS model video analysis.
Satellite loop today shows clouds to the south and you can also see clouds in eastern Canada rotate from north to south. This is evidence that the jet stream flow from Canada is beginning to strengthen as the pattern change process continues.
Radars are likely to show increasing lake effect snows developing today as colder air continues to move southward.
Longer term it looks like either the refrigerator door or the freezer door from time to time will be left open.
NATIONAL WEATHER SERVICE SNOW FORECASTS
LATEST JOESTRADAMUS ON THE LONG RANGE
Weather App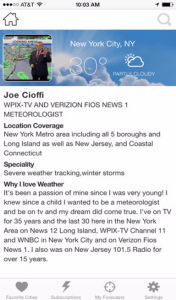 Winter is here! Don't be without Meteorologist Joe Cioffi's weather app. It is a complete weather app to suit your forecast needs. All the weather information you need is right on your phone. Android or I-phone, use it to keep track of all the latest weather information and forecasts. This weather app is also free of advertising so you don't have to worry about security issues with your device. An accurate forecast and no worries that your device is being compromised.
Use it in conjunction with my website and my facebook and twitterand you have complete weather coverage of all the latest weather and the long range outlook. The website has been redone and upgraded. Its easy to use and everything is archived so you can see how well Joe does or doesn't do when it comes to forecasts and outlooks.
Just click on the google play button or the apple store button on the sidebar for my app which is onMy Weather Concierge. Download the app for free. Subscribe to my forecasts on an ad free environment for just 99 cents a month.
Get my forecasts in the palm of your hand for less than the cost of a cup of Joe!