Long Island Weather: Another Very Cold Night
Long Island weather will see another very cold night ahead with clear skies and light winds. Even though Long Island is along the coast it can be an amazing place on nights where radiational cooling takes place. It is when skies are clear and winds are light to calm, the heat that the earth has absorbed during the day is radiated back out into space. This can create huge temperature variations especially in Central Suffolk County which can be the radiation capital of the northeast on some nights. Most lows tonight will be in the teens however in the coldest spots like Brookhaven and Westhampton, single digits are likely. At least there is no wind so there is no wind chill factor to make it feel even colder, like last night.
On this tight view the area in the dark purple is the area that usually sees temperatures falling off the wall. They can be at times 15 degrees colder than the surrounding area. Being in the Pine Barrens does help the cause considerably. Warmer more urban areas to the west will be in the teens to near 20.
Satellite loops show a large area of clear skies and with high pressure moving overhead, the stage is set. Temperatures today did not get out of the 20s so watch the thermometers tonight. Wednesday we rebound with the cold air moving out but it is not going to be replaced by warmer air. We are just seeing temperatures back closer to normal highs on Wednesday in the upper 30s to near 40.
There is no precipitation to worry about until the weekend and latest models are forecasting a storm track to the west which means rain and milder temperatures. We could see 50s on Sunday before it turns cold again next week. Thursday and Friday Long Island weather will be dry with some sunshine and highs in the low 40s…perhaps mid 40s Friday. Saturday looks cloudy with light rain and an onshore flow with temps in the lower 40s before it warms up probably Saturday night and Sunday as low pressure heads to the west. Here is my latest post on the weekend weather system.
NATIONAL WEATHER SERVICE SNOW FORECASTS
LATEST JOESTRADAMUS ON THE LONG RANGE
Weather App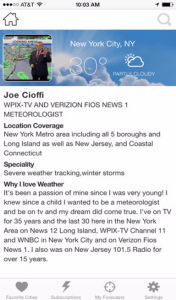 Winter is here! Don't be without Meteorologist Joe Cioffi's weather app. It is a complete weather app to suit your forecast needs. All the weather information you need is right on your phone. Android or I-phone, use it to keep track of all the latest weather information and forecasts. This weather app is also free of advertising so you don't have to worry about security issues with your device. An accurate forecast and no worries that your device is being compromised.
Use it in conjunction with my website and my facebook and twitterand you have complete weather coverage of all the latest weather and the long range outlook. The website has been redone and upgraded. Its easy to use and everything is archived so you can see how well Joe does or doesn't do when it comes to forecasts and outlooks.
Just click on the google play button or the apple store button on the sidebar for my app which is onMy Weather Concierge. Download the app for free. Subscribe to my forecasts on an ad free environment for just 99 cents a month.
Get my forecasts in the palm of your hand for less than the cost of a cup of Joe!