Long Independence Day Holiday Weekend Dry More Often Than Not
Severe Thunderstorm Risks Sunday Monday
Overall I am leaning optimistic for the long July 4th holiday weekend. Technically it is not a holiday weekend since the 4th of July is Tuesday, however the clever among you probably constructed a four day weekend or even a five or six day weekend around the holiday. The bottom line for Saturday through Tuesday is that the majority of the time it will be dry. There will be thunderstorm risk Sunday and Monday. Saturday and Tuesday could well wind up thunderstorm free in most places though the odd chance for a thunderstorm can't be ruled out.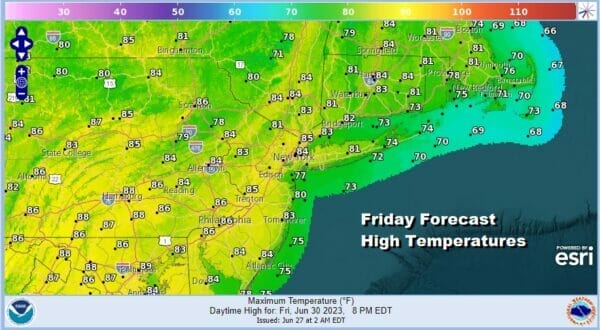 Starting today which is getaway day, we are going to be dry. We also will continue to experience hazy skies thanks to the Canada wildfire smoke. however the good news is that as the northwest flow aloft shifts over the weekend to a more westerly direction, we should see the smokey haze ease somewhat. Today is a day of hazy sunshine and reasonable humidity though barely and highs will be mostly in the low to middle 80s with 70s along the shore. No thunderstorms are forecast.
SATELLITE

WEATHER RADAR

There are no issues tonight which will be a warm night but no thunderstorm issues. Skies should be partially clear with most lows in the 60s to near 70 in the warmer urban locations. Saturday we will begin a west southwest flow and a cold front sets up well north in Upstate NY and Northern New England so Eastern Pennsylvania to Southern New England will see a warm day of sunshine and highs in the low to mid 80s.
We will throw in the outside chance for a shower or thunderstorm but much of the area from Eastern Pennsylvania to Southern New England should be dry. Also as mentioned earlier we should see sky conditions slowly improve as smoke conditions ease. Sunday brings the front to the north closer as it drops slowly south and this opens the door to severe weather risk.
The Storm Prediction Center in its initial outlook for Sunday has a marginal to slight risk for severe weather for much of Eastern Pennsylvania to Southern New England and points southward into the Northern Mid Atlantic. I suspect we might see these areas expanded a little further north as we draw closer. Much of Sunday will be no worse than partly sunny with highs in the low to middle 80s, 70s along the shore.
Monday could very well be a repeat of Sunday as the front sinks southward but doesn't really push through until late Monday or Monday evening so we will keep the chances for showers and thunderstorms Monday though the first part of the day should be no worse than partly sunny. Highs will be in the low to mid 80s.
Tuesday should see the front to our south and we are back to my initial idea which is that the 4th of July would be a mostly dry day with sunshine, highs in the low to mid 80s inland with 70s and the shore, and perhaps only a low chance for a scattered shower or thunderstorm. I continue to be optimistic that most of the holiday weekend should be fine with showers and thunderstorms interrupting from time to time.
MANY THANKS TO TROPICAL TIDBITS FOR THE USE OF MAPS
Please note that with regards to any severe weather,  tropical storms, or hurricanes, should a storm be threatening, please consult your local National Weather Service office or your local government officials about what action you should be taking to protect life and property.
(Amazon is an affilate of Meteorologist Joe Cioffi & earns commissions on sales.)