Lighting Up The Christmas Tree In Rain?
JOESTRADAMUS LIGHTING UP HIS CHRISTMAS TREE!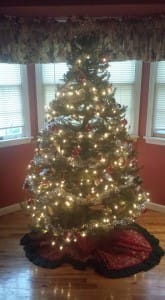 Lighting up Christmas trees will be going on tonight from the one at Rockefeller Center to others across local towns and churches right into the weekend. The only threat for rain is when the last of any showers roll through this evening. You can see the showers lining up on the radar and you can also see the well defined upper air circulation to the rest literally driving moisture northward along the east coast and at the same time push it eastward to the coast. It is a pretty remarkable looking satellite loop showing features so well defined. The subtropical moisture feed is lighting up the northeast with much needed rain while the circulation over the Great Lakes is producing some light snows there.
Once these showers move through this evening we should be done for awhile and skies should partially clear out overnight with temperatures probably settling in the the 40s with some 30s in cool spots. Thursday looks like a mix of sun and clouds as the upper low goes by to our north. Highs will be only in the upper 40s and lower 50s and the same forecast outlook holds for Friday. The weekend looks good with sunshine both days and highs each day will be into the 50s.
Longer range into next week all models bring a weather system across the southern half of the jet stream and develop a coastal storm for around Tuesday. It would be rain and wind. It is so warm that no snow will fall for anyone if it happens. How it lifts up along the coast is in question at this point and we will elaborate more on this later. Also JOESTRADAMUS is doing his daily long range thing and that will be up later during this evening.
EL NINO HAS PEAKED BUT WHAT DOES THAT MEAN LONGER TERM?
CLIMATE MODELS WINTER FORECAST 
JOESTRADAMUS VIDEO ANALYSIS FROM TUESDAY
JOESTRADAMUS LONG RANGE POST TUESDAY
JOESTRADAMUS LONG RANGE POST FROM MONDAY
JOESTRADAMUS WINTER FORECAST 2015-2016