Late Summer Day Sunshine Hot More Humid Thunderstorms Late Friday

Satellite pictures show virtually cloud free conditions across the Northeast as we enjoy a very warm to hot late summer day. Look for lots of sunshine today with little to no chance for an isolated shower or thunderstorm. Humidity levels will be coming up a bit today as will temperatures. Highs will reach the upper 80s to some lower 90s. Tonight will be warm and humid with most lows in the 60s to lower 70s.
Friday will be a very warm to hot and humid day with partly sunny skies. we have a cold front that will be approaching and moving through Friday evening. This opens the the door for the possibility of some thunderstorms. The Storm Prediction Center has a marginal risk for severe weather from Northeast Pennsylvania and Northern New Jersey north and east into New England. An area of slight risk has been added for upstate NY and Central New England.
The highest risk will come late in the afternoon and evening and once again it will be a case where some people see thunderstorms and others will not. Friday highs will be in the upper 80s to around or just over 90 degrees with cooler readings along the shore. The front will pass and it leaves us in very warm and humid conditions over the weekend.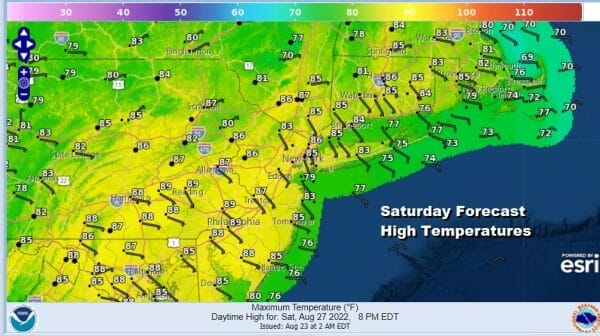 Saturday and Sunday will be no worse than partly sunny both days. The wind will be from off the ocean so inland highs will be in the middle to upper 80s. Along the coast temperatures will be in the upper 70s and lower 80s. There is a slight chance for an isolated shower or thunderstorm in the afternoon on either day but for the most part it is a rain free weekend. Next week starts hot an humid before another front comes along with showers and thunderstorms during the middle of next week.
Please note that with regards to any severe weather,  tropical storms, or hurricanes, should a storm be threatening, please consult your local National Weather Service office or your local government officials about what action you should be taking to protect life and property.