Labor Day Weekend Weather Outlook
LATEST VIDEO ON TROPICAL DEPRESSION 9, TROPICAL DEPRESSION 8, MAJOR HURRICANE GASTON & WEATHER MODEL ANALYSIS
Labor Day Weekend Weather Outlook
No Rain of Consequence Next 10 Days
Most years Labor Day Weekend Weather usually is pretty good. Every so often we get a year where a front is coming through or stalled out. But most of the time the Labor Day Weekend provides at least 2 good days and possibly 3. This Labor Day Weekend Weather Outlook appears to be a good one for now.
Based on what is in front of us at the moment the next week and possibly the next 10 days won't see any important rain. The only chances for any isolated thunderstorms could come in one or two spots Monday afternoon and again late Wednesday as two weak cold fronts come through. Other than that we have a pretty straight forward weather pattern ahead of us. A northwest flow from Canada and a ridge to the south continue to control the flow. One flexes from time to time and allows for cooler dry air to move in for a few days. When the ridge to the south flexes we see warmer and more humid air but we haven't seen much of the extreme heat and humidity of a few weeks ago.
The satellite loop shows clouds to the north as the next front approaches. Not much is happening to the west other than some clusters of thunderstorms well away from our area. To the south we see the tropical depression off the North Carolina coast, Hurricane Gaston in the Atlantic with top winds of 115 mph, and a tropical depression that has formed in the Florida Straits.

Now as for the week ahead front number one moves through late Monday. It will be a hot humid day with highs in the 80s to near 90 and just an outside chance for an isolated shower or thunderstorm. Tuesday high pressure builds in from the north and its another shot of slightly cooler and slightly drier air. Highs will be in the low to mid 80s. Wednesday brings the next front so it gets very warm to hot again with just a chance for an isolated shower or thunderstorm.
Labor Day Weekend Weather Outlook GFS Upper Air Thursday
Thursday sees the northern jet really flex as the ridge in the east is gone. That deep trough does 2 things. It brings in a nice shot of cool dry air for the end of the week. The second thing it does is that it brings strong westerlies down as far south as Florida. This means any tropical systems have no chance of moving up the east coast as they will be pushed out well to the south and east. They will not be an issue. Highs Thursday and Friday will be in the 70s and lows will be in the 50s..maybe even some 40s in colder spots north and northwest of the coast.
Labor Day Weekend Weather Outlook GFS Upper Air Saturday
Over the Labor Day Weekend we see the ridge flexing again so that means a return to warmer temperatures. Highs should be back into the 80s on Saturday and  80s for Sunday. Now beyond Sunday it gets a little dicey in that we don't know if that ridge will hold. The late afternoon GFS model has some sort of back door front here for Sunday night which might mean it will be a little cooler for Labor Day. It also does something rather bizarre with Tropical Depression 9 in that it meanders it all weak in the Gulf of Mexico and then edges it up the east coast on Labor Day. I find that idea very bizarre at the moment and I am discounting it. For now I will keep things dry through Labor Day.
One other note is that another strong tropical wave is going to move off the African coast over the next 3 days and will be moving westward across the Atlantic. Even if this develops into a tropical storm, it will not be impacting our weather through the Labor Day holiday weekend. After that..its back to school!!!
FiOS1 News Weather Forecast For Long Island
FiOS1 News Weather Forecast For New Jersey
FiOS1 News Weather Forecast For Hudson Valley
LATEST JOESTRADAMUS ON THE LONG RANGE
Weather App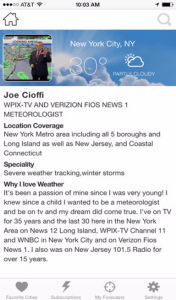 Don't be without Meteorologist Joe Cioffi's weather app. It is really a meteorologist app because you get my forecasts and my analysis and not some automated computer generated forecast based on the GFS model. This is why your app forecast changes every 6 hours. It is model driven with no human input at all. It gives you an icon, a temperature and no insight whatsoever.
It is a complete weather app to suit your forecast needs. All the weather information you need is right on your phone. Android or I-phone, use it to keep track of all the latest weather information and forecasts. This weather app is also free of advertising so you don't have to worry about security issues with your device. An accurate forecast and no worries that your device is being compromised.
Use it in conjunction with my website and my facebook and twitter and you have complete weather coverage of all the latest weather and the long range outlook. The website has been redone and upgraded. Its easy to use and everything is archived so you can see how well Joe does or doesn't do when it comes to forecasts and outlooks.
Just click on the google play button or the apple store button on the sidebar for my app which is on My Weather Concierge. Download the app for free. Subscribe to my forecasts on an ad free environment for just 99 cents a month.
Get my forecasts in the palm of your hand for less than the cost of a cup of Joe!
MENTION JOE CIOFFI AND GET A 5% DISCOUNT