Labor Day Weekend A Quiet One Slight Shower Risks Sunday

Weather in 5/Joe & Joe Weather Show Latest Podcast
Labor Day Weekend A Quiet One Slight Shower Risks Sunday
Our Labor Day weekend is a quiet one  and the northeast is enjoying sunshine. There are some patchy clouds showing up on the satellite view however and this is the only minor issue today. There may be a few passing clouds. Otherwise it is a mostly sunny nice dry low humidity kind of day with highs mostly in the 70s. The radars are quiet today into tonight and outdoor activities are all systems go.
SATELLITE

Those clouds from Pennsylvania south into Virginia are the beginnings of a warm front taking shape. It is weak but we will throw in the chance for a shower during the early morning hours Sunday or around daybreak. After that a cold front comes in from the west and that triggers the chance for a shower or thunderstorm in the afternoon Sunday. In between it will be cloudy to partly sunny Sunday (depending on location) and highs will be in the upper 70s to some lower 80s. The humidity will be a little higher but it will not be unreasonable.
Our front goes by and it is back to relatively dry air for Monday into Tuesday. We are looking at a partly to mostly sunny day for Monday, Labor Day. Highs will be in the upper 70s and lower 80s with reasonable humidity. We will hold on to that for Tuesday but we will be transitioning over to a warm and more humid push of air Wednesday ahead of an approaching cold front.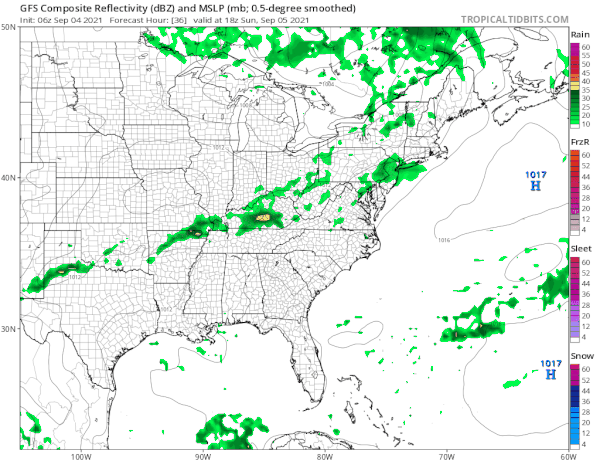 The front will bring a chance for showers and thunderstorms late Wednesday. It will also make sure that Hurricane Larry isn't an issue here in the Eastern US as it recurves northward though it does make a rather close pass to Bermudal. Look for the surf to be active along the south shore of Long Island and Coastal New Jersey later this week as Larry passes 500 or more miles to the east. Thursday and Friday will be dry cool and sunny. Next weekend we could see things warm up a bit in parts of the Northeast and Mid Atlantic at least for a few days. Meanwhile back to the tropics, we will be also watching disturbed weather over Central Mexico that will emerge into the Gulf of Mexico. The GFS model above does develop a tropical system in the Northern Gulf for the middle of next week. We will be a side eye on this though the upper pattern is one that does not suggest around round of tropical moisture coming up into the Northeast.

Please note that with regards to any severe weather,  tropical storms, or hurricanes, should a storm be threatening, please consult your local National Weather Service office or your local government officials about what action you should be taking to protect life and property.