Joestramdus Ugly Long Range Outlook

April in my view is a cruel month. It is also in my view the worst month weather wise because winter is still trying to hold on and spring is flexing its muscle. The result can be very problematic especially when you try and forecast in a pattern like this. What we are seeing is something that should be around in the middle of January. At least when it happens then, it is when it is supposed to happen. When it happens in April it means delaying warmer weather at least, and in the extreme, very cold and snow like we saw in some areas today.
Joestramdus Ugly Long Range Outlook Long Range Teleconnections
All the long range indicators are pointing to a continuation of below normal temperatures for the next week or so. We are also seeing the North Atlantic Oscillation forecast to go off the wall negative next weekend and into next week. This means no 80s and no 70s anytime soon unless you get an odd set up. You saw that today in South Jersey for example where temperatures reached the low 70s while Northwest New Jersey was in the low 30s for a nice 40 degree spread.
Joestramdus Ugly Long Range Outlook
GFS NEXT MONDAY APRIL 11, 2016
Joestramdus Ugly Long Range Outlook
EUROPEAN MODEL NEXT MONDAY
Over the next week blocking is forecast to develop on all the models. Above we have the GFS and European Model for next Monday. All weather models show a strong blocking high developing over Greeneland with the Euro model the strongest of the bunch. This at least keeps temperatures below normal throughout much of the east into next week. Now whether it comes with some sort of storm threat is another issue. Right now the models suggest that there won't be any big issues. The Euro model and GFS model have a cold front coming through Thursday and then both have some sort of  developing off the Middle Atlantic Coast which moves out to the east and is of no consequence here. But let's see how the models play out going forward. In the meantime it remains colder than normal on the order 15 or more degrees below normal for next weekend. Temperatures may attempt to moderate after that.
FiOS1 News Weather Forecast For Long Island
FiOS1 News Weather Forecast For New Jersey
FiOS1 News Weather Forecast For Hudson Valley
NATIONAL WEATHER SERVICE SNOW FORECASTS
LATEST JOESTRADAMUS ON THE LONG RANGE

NOMINATED FOR AN APPY AWARD FOR BEST WEATHER APP!!
Weather App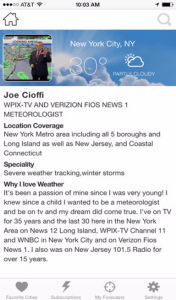 Don't be without Meteorologist Joe Cioffi's weather app. It is really a meteorologist app because you get my forecasts and my analysis and not some automated computer generated forecast based on the GFS model. This is why your app forecast changes every 6 hours. It is model driven with no human input at all. It gives you an icon, a temperature and no insight whatsoever.
It is a complete weather app to suit your forecast needs. All the weather information you need is right on your phone. Android or I-phone, use it to keep track of all the latest weather information and forecasts. This weather app is also free of advertising so you don't have to worry about security issues with your device. An accurate forecast and no worries that your device is being compromised.
Use it in conjunction with my website and my facebook and twitter and you have complete weather coverage of all the latest weather and the long range outlook. The website has been redone and upgraded. Its easy to use and everything is archived so you can see how well Joe does or doesn't do when it comes to forecasts and outlooks.
Just click on the google play button or the apple store button on the sidebar for my app which is on My Weather Concierge. Download the app for free. Subscribe to my forecasts on an ad free environment for just 99 cents a month.
Get my forecasts in the palm of your hand for less than the cost of a cup of Joe!