Joestradamus Week Ahead Issues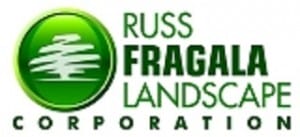 MENTION JOE CIOFFI AND GET A 5% DISCOUNT
Joestradamus Week Ahead Issues
Rain Tuesday Night Into Wednesday
Temperatures Cooler Than Average
Looking ahead to next week there are a number of questions however it appears to JOESTRADAMUS that there is room for general optimism. Still there are some issues regarding  the pattern for next week. When we look at the upper flow the dominating feature is the northern stream which keeps a general west northwest flow over us. This would suggest that anything that comes out in the southern stream will be forced eastward and underneath us with not much in the way of development. The vortex in Southeastern Canada parks its self to the east and this effectively keeps the upper flow relatively flat. So the question will be whether any system coming out of the Plains will get far enough north to impact us.
Joestradamus Week Ahead Issues
GFS JET STREAM TUESDAY
Models in general have been trending weaker and south. There will be an area of rain that will be threatening late Tuesday into Wednesday. But one would have to question how far north does this area get? The other question would be clouds. There is a onshore flow that sets up with high pressure to our north so even if we don't get rain, we will certainly have clouds to contend with Tuesday and possible Wednesday as well.
Joestradamus Week Ahead Issues
GFS SURFACE WEDNESDAY
Today's GFS model as well as the Euro model brings the rain shield into Central & Southern New Jersey Tuesday night into Wednesday morning. Recent weather events would suggest that this is following the same pattern that has been the case for the month so far. Once that weak low gets out of the way to the east the cloud line should shift southward and we will see some sunshine back Thursday and Friday.
The overall temperature trend for next week is for below normal daytime highs due to the cold air mass at the beginning of the week, the onshore flow for the middle of the week, and perhaps a dry onshore flow at the end of the week. Other than the odd day here and there, nothing suggests any kind of long term warming yet. At least this time of year, when the sun is out, temperatures do manage to find there way to 70 or better rather easily. This will not be the case Monday though with highs just in the low 60s on average. Tuesday and Wednesday will be in the 60s for the most part but cooler near the coast. Late week we should start nearing 70 again as long as we have some sunshine. No big storms are on the horizon.
FiOS1 News Weather Forecast For Long Island
FiOS1 News Weather Forecast For New Jersey
FiOS1 News Weather Forecast For Hudson Valley
NATIONAL WEATHER SERVICE SNOW FORECASTS
LATEST JOESTRADAMUS ON THE LONG RANGE

NOMINATED FOR AN APPY AWARD FOR BEST WEATHER APP!!
Weather App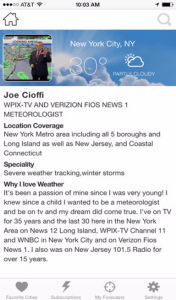 Don't be without Meteorologist Joe Cioffi's weather app. It is really a meteorologist app because you get my forecasts and my analysis and not some automated computer generated forecast based on the GFS model. This is why your app forecast changes every 6 hours. It is model driven with no human input at all. It gives you an icon, a temperature and no insight whatsoever.
It is a complete weather app to suit your forecast needs. All the weather information you need is right on your phone. Android or I-phone, use it to keep track of all the latest weather information and forecasts. This weather app is also free of advertising so you don't have to worry about security issues with your device. An accurate forecast and no worries that your device is being compromised.
Use it in conjunction with my website and my facebook and twitter and you have complete weather coverage of all the latest weather and the long range outlook. The website has been redone and upgraded. Its easy to use and everything is archived so you can see how well Joe does or doesn't do when it comes to forecasts and outlooks.
Just click on the google play button or the apple store button on the sidebar for my app which is on My Weather Concierge. Download the app for free. Subscribe to my forecasts on an ad free environment for just 99 cents a month.
Get my forecasts in the palm of your hand for less than the cost of a cup of Joe!