JOESTRADAMUS Weather War Blocking Style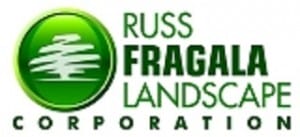 MENTION JOE CIOFFI AND GET A 5% DISCOUNT
Blocking patterns are such challenging things. Depending on the strength of the block, you could either be sitting in low clouds and rain with temperatures in the 40s while just a handful of miles south of you it could be sunny and warm with temperatures in the 70s and 80s. Of course trying to figure out where and when and for whom is the biggest challenge. This is where you might see forecasts for highs of 45 to 75 from north to south. Such is spring. Such is the blocking pattern that is currently evolving.
Today's weather models pretty much set the battle field for next week. The Greenland block is very strong. So is the vortex in Eastern Canada. You can see on the map how the block basically builds a wall around the vortex preventing it from escaping out to the east as long as the block holds.
JOESTRADAMUS Weather War Blocking Style Euro Model Upper Air Monday 4/25/2016
Now what this means from a practical standpoint is that a boundary between the flow around the vortex and the west to southwest flow coming out of the Southwestern U.S. will set up nearby. Lows will be moving along that boundary from west to east. Obviously we need to figure out where that boundry is going to be and which side of the boundary you will be on.
JOESTRADAMUS Weather War Blocking Style GFS Surface Monday 4/25/2016
For Monday of next week the GFS has decided that the block is not strong enough to force the boundary south of us. If this is correct it will be warm with temperatures in the 70s to around 80 degrees.  The Euro model with the much stronger blocking signature takes the boundary further south and actually shows a soaking rain across New York State and New England with southern areas down to New Jersey, Pennsylvania and Long Island on the edge of that rain.
JOESTRADAMUS Weather War Blocking Style
EURO MODEL SURFACE MONDAY AND TUESDAY 4/25-26/2016
The questions that will be resolved over the coming days include whether the blocking pattern is as strong as the Euro model suggests. Climatology would suggest that this would have the better chance of being correct than the GFS model. However the Euro model hasn't exactly been gangbusters lately on the long range. In the meantime the shorter range issues through Sunday are clearer with a nice day Thursday. Some showers are coming for later Friday and Friday night though I'm totally unimpressed by this weather system and rainfall amounts still appear to be under a quarter of an inch. Saturday and Sunday look pretty good with some sunshine both days with temperatures mainly in the 60s.
HERE IS MY LATEST WEATHER VIDEO ON THE CURRENT LOCAL FORECAST
FiOS1 News Weather Forecast For Long Island
FiOS1 News Weather Forecast For New Jersey
FiOS1 News Weather Forecast For Hudson Valley
NATIONAL WEATHER SERVICE SNOW FORECASTS
LATEST JOESTRADAMUS ON THE LONG RANGE

NOMINATED FOR AN APPY AWARD FOR BEST WEATHER APP!!
Weather App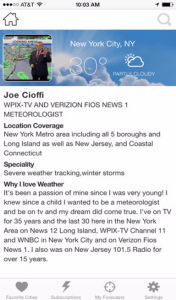 Don't be without Meteorologist Joe Cioffi's weather app. It is really a meteorologist app because you get my forecasts and my analysis and not some automated computer generated forecast based on the GFS model. This is why your app forecast changes every 6 hours. It is model driven with no human input at all. It gives you an icon, a temperature and no insight whatsoever.
It is a complete weather app to suit your forecast needs. All the weather information you need is right on your phone. Android or I-phone, use it to keep track of all the latest weather information and forecasts. This weather app is also free of advertising so you don't have to worry about security issues with your device. An accurate forecast and no worries that your device is being compromised.
Use it in conjunction with my website and my facebook and twitter and you have complete weather coverage of all the latest weather and the long range outlook. The website has been redone and upgraded. Its easy to use and everything is archived so you can see how well Joe does or doesn't do when it comes to forecasts and outlooks.
Just click on the google play button or the apple store button on the sidebar for my app which is on My Weather Concierge. Download the app for free. Subscribe to my forecasts on an ad free environment for just 99 cents a month.
Get my forecasts in the palm of your hand for less than the cost of a cup of Joe!