Joestradamus: Weather Quiet Ahead
Joestradamus: Weather Quiet Ahead
After seeing two widespread rain events in a week for the first time in months and probably since the early spring, the pattern settles down a bit going into next week. We have conflicting signals in the long range.
Joestradamus: Weather Quiet Ahead Teleconnections
The indicies above point to some conflict. The Pacific North America index is forecast to go positive which means a strong ridge in the west. The North Atlantic Oscillation is forecast to go sharply negative over the next 2 weeks. The East Pacific Oscillation however is forecast to go strongly positive which does not favor cold air coming into the Eastern US. The strong North Atlantic Oscillation might allow some colder air to come down from the northeast however but it does not appear it would lock in the way it did over the last 5 days. This takes us out through the first 10 days of November.
Joestradamus: Weather Quiet Ahead
Temperature Anomalies Late Next Week
You can see the effect of the negative NAO on the loop above of above and below normal temperatures. Also you can see how the positive EPO basically floods Canada and the rest of the United States with warmer than normal air.
Joestradamus: Weather Quiet Ahead
Upper Air Jet Stream

Pay close attention to two things going on. First off is the mess in the Pacific which basically cuts off all polar air flow while in the east on this run the NAO causes a trough to drop just to the east of us and brings down a shot of colder air. Who knows if this is real or not and if it is it is just temporary. None of this is a surprise nor does it change my view of a pattern change developing around the middle of November. It may take a bit to play out since they don't change on the dime.  Some of the longer range European models are in line with this idea going into the super long range. As always with these things it is a process and the pattern change you want may not necessarily be the pattern change you get.
In the meantime this week look for cold fronts ot come through every few days. One is due Sunday and another one around midweek with not much weather with it. No big storms are on the horizon for the next 7 days.
MANY THANKS TO TROPICAL TIDBITS FOR THE WONDERFUL USE OF THE MAPS
           SNOW REMOVAL COMPANIES FOR YOUR WINTER NEEDS
             LONG ISLAND                                ROCKLAND COUNTY                   Connecticut

WINTER 2016-2017 PART 1 OCEAN WATER TEMPERATURES
WINTER 2016-2017 PART 2 ARCTIC SEA ICE AND SIBERIAN SNOW COVER
FiOS1 News Weather Forecast For Long Island
FiOS1 News Weather Forecast For New Jersey
FiOS1 News Weather Forecast For Hudson Valley
NATIONAL WEATHER SERVICE SNOW FORECASTS
LATEST JOESTRADAMUS ON THE LONG RANGE
Weather App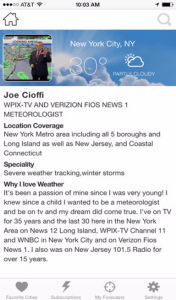 Don't be without Meteorologist Joe Cioffi's weather app. It is really a meteorologist app because you get my forecasts and my analysis and not some automated computer generated forecast based on the GFS model. This is why your app forecast changes every 6 hours. It is model driven with no human input at all. It gives you an icon, a temperature and no insight whatsoever.
It is a complete weather app to suit your forecast needs. All the weather information you need is right on your phone. Android or I-phone, use it to keep track of all the latest weather information and forecasts. This weather app is also free of advertising so you don't have to worry about security issues with your device. An accurate forecast and no worries that your device is being compromised.
Use it in conjunction with my website and my facebook and twitter and you have complete weather coverage of all the latest weather and the long range outlook. The website has been redone and upgraded. Its easy to use and everything is archived so you can see how well Joe does or doesn't do when it comes to forecasts and outlooks.
Just click on the google play button or the apple store button on the sidebar for my app which is on My Weather Concierge. Download the app for free. Subscribe to my forecasts on an ad free environment for just 99 cents a month.
Get my forecasts in the palm of your hand for less than the cost of a cup of Joe!