JOESTRADAMUS SPRINGUS INTERRUPTUS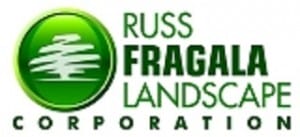 MENTION JOE CIOFFI AND GET A 5% DISCOUNT
When we get to the point in March where 70 degree days (okay even 80 degree days) start appearing, I am at the point where I'm pretty much tired of the winter forecasting mode and need to take a long break. It appears however that from the standpoint of temperatures, we are about to experience an episode of  SPRINGUS INTERUPPTUS. Long term indices have been pointing to this for about a week now and there is no backing off from what I can see. From a practical standpoint let is remember this is April and not February or even early March. 10 or more degrees below normal this time of year means highs into the 40s and nights down in the 20s. This is not exactly what I would define as brutal cold but when your normals are beginning to approach 60 it is significant.
JOESTRADAMUS SPRINGUS INTERRUPTUS LONG RANGE TELECONNECTION INDICES
Today's longer term indices take an interesting twist in that this is all being led by the East Pacific Oscillation or E.P.O which is like the North Atlantic Oscillation or N.A.O…..except…are you ready folks…it is in the Pacific! The blocking signature that develops off the west coast would be similar to the blocking signature that we look over for over Greenland. A strong negative E.P.O would mean colder for much of the eastern United States. Today's indices also now flip the PNA or Pacific North America pattern positive which bascially lends even more support to the idea of colder than normal temperatures. The positive N.A.O (though) not strongly so suggests cold coming in and going out as we move past the first week of April. However bear in mind that these things change daily. The E.P.O however does look off the wall positive for the 6th day in a row so I think that is a done deal. We will have to watch the others closely. The E.P.O makes it's strongest negative reading around March 30th.
JOESTRADAMUS SPRINGUS INTERRUPTUS EURO MODEL
DAY 10 SATURDAY APRIL 2
Now as several of you winter lovers have commented in the last few days, it figures we get this now and not back in January but such is life. They can't all be cold and snowy winters.  However this setup of for April is pretty extreme. Im using the Euro model because it has been so much better than the others on the overall broad pattern. This upper air suggests at least a few days of much below normal temperatures beginning around April 2 and lasting until at least April 5th or 6th depending on one thing or another. All the weather models have some variation of this and the ensembles lend their support as well.
Now of course the next logical question is whether this comes with another chance for snow. I'm going to answer that question this way. April snows are not unheard of BUT they are very rare. In New York City measurable snow has fallen 41 times in 147 years which works out to 1 out of every 4 years. The last time we saw measurable snow was in April of 2003 of 4 inches and a whopping .1 inch in 2006. If we take out everything under 1 inch than it has only occured 26 times or 1 out of every 6 years roughly. Needless to say any setup, if one even happens at all will have to be absolutely perfect and would absolutely have to occur at night. It is also something that may not necessarily become obvious unti the short range IF it happens at all. Given the model mess of last weekend showing huge differences inside 24 hours of zero to a foot, I think it is safe to say that to speculate on this now is just a fruitless expedition. Some point to the April 1982 storm and I remember it well. It was an absolutely perfect setup. And guess what? There haven't any perfect set ups since. By the way Long Islanders particularly Central Long Islanders might remember April of 1996 where measurable snow fell on 3 occasions including 16 inches in parts of Brookhaven on April 16th 1996 (I believe). It fell at night and people said there were snowflakes the size of pancakes. The snow was so heavy and wet that was very difficult to move. Thankfully it like all other snows, melt!
FiOS1 News Weather Forecast For Long Island
FiOS1 News Weather Forecast For New Jersey
FiOS1 News Weather Forecast For Hudson Valley
NATIONAL WEATHER SERVICE SNOW FORECASTS
LATEST JOESTRADAMUS ON THE LONG RANGE

NOMINATED FOR AN APPY AWARD FOR BEST WEATHER APP!!
Weather App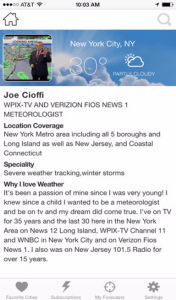 Don't be without Meteorologist Joe Cioffi's weather app. It is really a meteorologist app because you get my forecasts and my analysis and not some automated computer generated forecast based on the GFS model. This is why your app forecast changes every 6 hours. It is model driven with no human input at all. It gives you an icon, a temperature and no insight whatsoever.
It is a complete weather app to suit your forecast needs. All the weather information you need is right on your phone. Android or I-phone, use it to keep track of all the latest weather information and forecasts. This weather app is also free of advertising so you don't have to worry about security issues with your device. An accurate forecast and no worries that your device is being compromised.
Use it in conjunction with my website and my facebook and twitter and you have complete weather coverage of all the latest weather and the long range outlook. The website has been redone and upgraded. Its easy to use and everything is archived so you can see how well Joe does or doesn't do when it comes to forecasts and outlooks.
Just click on the google play button or the apple store button on the sidebar for my app which is on My Weather Concierge. Download the app for free. Subscribe to my forecasts on an ad free environment for just 99 cents a month.
Get my forecasts in the palm of your hand for less than the cost of a cup of Joe!