JOESTRADAMUS Snowfall Forecast First Call
Okay folks this is my snowfall forecast map based on my views of the overnight model runs. There was a shift northward in the northern fringe of the snow and the northern area of 6 inches plus on the European. The fact that most of the models are pretty close now with how this plays out inspires a little more confidence at this point which in weather is never an easy thing to feel.
JOESTRADAMUS Snowfall Forecast First Call
I have 2 concerns. First off for Coastal Counties in New Jersey, mainly coastal Ocean County southward will be mixing issues however the tough call is when this area changes back snow later Saturday you could make up for this on the backside. My other concern would be for areas north of route 84. It is possible that the heavier snow shield could get a little further north than models are showing at this time. Coastal storms like this have a habit of throwing precipitation further north than you might think. So I am going to be a little cautious there. Otherwise you can see my confidence factor is moderate in places where im forecasting lower amounts and actually higher in the 1 foot plus area. Judging from what is happening, it appears those areas are going to get at least 12 inches. Check the latest National Weather Service snowfall forecast maps at the link below the videos.
 JOESTRADAMUS Snowfall Forecast First Call
 NEW VIDEO ANALYSIS OF OVERNIGHT EUROPEAN
JOESTRADAMUS Snowfall Forecast First Call
 NEW VIDEO ANALYSIS OF OVERNIGHT GFS
LATEST GFS DISCUSSION REGARDING MAJOR STORM THREAT
NATIONAL WEATHER SERVICE SNOW FORECASTS
LATEST JOESTRADAMUS ON THE LONG RANGE
Weather App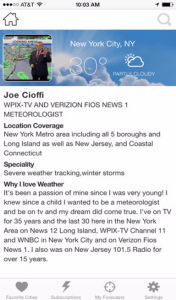 Winter is here! Don't be without Meteorologist Joe Cioffi's weather app. It is a complete weather app to suit your forecast needs. All the weather information you need is right on your phone. Android or I-phone, use it to keep track of all the latest weather information and forecasts. This weather app is also free of advertising so you don't have to worry about security issues with your device. An accurate forecast and no worries that your device is being compromised.
Use it in conjunction with my website and my facebook and twitterand you have complete weather coverage of all the latest weather and the long range outlook. The website has been redone and upgraded. Its easy to use and everything is archived so you can see how well Joe does or doesn't do when it comes to forecasts and outlooks.
Just click on the google play button or the apple store button on the sidebar for my app which is onMy Weather Concierge. Download the app for free. Subscribe to my forecasts on an ad free environment for just 99 cents a month.
Get my forecasts in the palm of your hand for less than the cost of a cup of Joe!