Figuring out the long range can be a very frustrating exercise. Models change and adjust from run to run. However this period of long range examination reveals all sorts of added stress on models. That stress is coming from the tropics. There are several factors going on and each run seems to react differently. In the Pacific we have 2 hurricanes that appear to be re-curving into the westerlies and threaten to strengthen the non tropical low that sits in the Gulf of Alaska. Strengthening this has impact down the line where it forces ridging in the west or at least in the northwest and tends to favor troughing in the east. On the Atlantic side we have a couple of systems that, depending on model run, change the complexion of things in the Atlantic. Models were developing a gale along and east of 60 west which would tend to strengthen the ridge in the east. That comes and goes as well. Until all this gets resolved we probably won't have a good handle on the long range pattern for another few days at least.
The 84 hour gfs today shows the busy nature of what is out there especially on the Pacific side while the Atlantic has that strong upper low south of Greenland with a little development near 40N 40W. The ridge in the east is intact at this point which is Sunday night. Today's run has the long range resolving all this with a trough along and east of the Rockies by next weekend. The ridge is still hanging on in the east though weaker while it begins to take better shape in the far west and off the Pacific Coast.What today's run indicates is that the next cold front for later next week will be much like the one that comes through tonight were we cool down for a couple of days and then warm up afterwards. The prior run had a fairly decent cool shot coming in later next week. Then it backed off..then it came back…now it has backed off again. Gradually the trough position shifts eastward and allows cooler air to move into the east and (dare we say it) some much needed rain. This is beyond day 10 which takes us beyond next weekend! This is how static things are right now with the way the jet stream is set up. It takes a week or more for things to happen. Also one should note that usually when patterns are about to change, models tend to be come very volatile from run to run. It is as if the old pattern is resisting any change as much and as long as it can.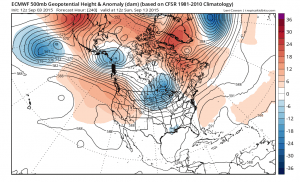 I just want to briefly touch on the European long range and it seems like it has a similar idea in mind. You can see at this point we have a ridge along both coasts with a trough settting up somewhere in the middle though it has more of a progressive flatter look to it. Needless to say many many runs to go before we unravel this mystery.