Moving To A Stormy Pattern After Thanksgiving
JOESTRADAMUS is pretty much convinced at this point that a stormy pattern overall is going to be setting up for the first part of December. The pattern is a definite shift away from the dry pattern we have been in since mid-spring. It seems the El Nino induced subtropical jet stream looks to be flexing away. We have been advertising a "split" flow pattern developing and that indeed appears to be the case. For those of you who don't know, a split flow is basically 2 distinct jet streams are driving the weather pattern with a jet stream from Canada or polar jet and the strong subtropical jet that brings in moisture. How those jets interact determine rain, snow, tracks north, west, south, or east.  First things first I want to address the middle part of next week. Earlier today we posted about the overnight models and in case you didn't see it here is a you tube of the  video analysis from this morning.
Daytime model runs suggest no real change in the forecast dilemma here which is relatively simple. Which of the 2 jet stream patterns in going to dominate. The afternoon model runs have wobbled further north. There is also a timing issue between the slower European and the faster GFS weather forecasting model. The GFS would have rain here by Monday night while the European is 24 hours slower and moves to more Tuesday night into Wednesday.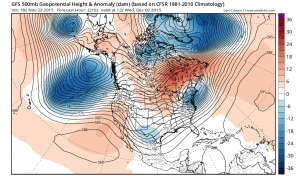 The European and GFS as shown are for the same time frame but you can see that the GFS is much faster as the system in the east is already past us Wednesday morning while the European is it is still beginning its approach. The faster GFS tends to have more southern stream interaction here vs the European which seems to have more northern stream interaction. Either way we can't seem to resolve this timing issue. Even the cold front that approaches at the end of the week comes through 12 hours faster on the GFS than on the European!
Beyond this system the GFS is very active showing several systems coming into the United States and making their way across the country. My guess is that there will probably another threat that follows this sytstem for early next week. The other question will be how much cold air will be able to bleed down into the northeast during this period.
We can at least say that there are no big storms through this weekend which means any Thanksgiving related travel or Christmas shopping that gets underway on Friday; no weather issues of importance are expected
SHORT RANGE FORECAST THROUGH THANKSGIVING
JOESTRADMUS FROM THIS MORNING ON THE LONG RANGE YOUTUBE VIDEO ANALYSIS