Joestradamus Long Range Changes

Joestradamus Long Range Changes
There are a lot of things happening in the atmosphere that will be impacting the longer range weather pattern across North America in the second half of November and going forward into December. Two of the more important indices that we monitor for the long range are turning favorable for a colder pattern. The North Atlantic Oscillation is forecast to go increasingly negative beginning in about a week's time. The increasing negative values suggest blocking developing in the North Atlantic which will displace cold air southward into the Untied States
Joestradamus Long Range Teleconnection Indices 
Also the East Pacific Oscillation goes negative in a few days which also favors a colder overall pattern. Now the specifics remain to be seen and this does not mean there can't be warm days ahead. However these strengthening indices do point to a colder pattern over North America as the month winds down and we head into December. Also pointing in the direction of colder is the Arctic Oscillation. There has been warming going on in the polar regions for weeks as temperatures remain well above normal there. The negative Arctic Oscillation points to a displacement of cold air southward.
Joestradamus Long Range Arctic Oscillation
Now in terms of the specifics there is lots of uncertainty. The process of pattern change is often a grinding grueling process that doesn't occur at some magic moment. The first system that might set the ball in motion is the system that moves to the East Coast next weekend. The upper air has a picture of a colder flow with a ridge of high pressure in the west and a strong ridge in the Atlantic building between Labrador and Greenland.
Beyond this time frame, we will have to watch the developments across the polar regions and where this ultimately winds up. The drought pattern has a stranglehold on the Eastern United States and we need to see weather systems begin to chip away at all this. Over days 10-13 on the long range you can see how the temperature profile changes with regards to the extent of above normal temperatures and and increase in areas of below normal temperatures in the eastern part of Canada as well as the west.
Model trends on this have been fairly consistent for days now and we would expect the evolutionary process to continue. I would expect to see snow cover to finally appear in the northern areas first and then gradually spread southward. I would also expect models to occasionally start showing fantasy threats in the long range. We will of course have to wait for all this to into some short range time frame before we give it any sort of validity.
MANY THANKS TO TROPICAL TIDBITS FOR THE WONDERFUL USE OF THE MAPS
           SNOW REMOVAL COMPANIES FOR YOUR WINTER NEEDS
             LONG ISLAND                                ROCKLAND COUNTY                   Connecticut

WINTER 2016-2017 PART 1 OCEAN WATER TEMPERATURES
WINTER 2016-2017 PART 2 ARCTIC SEA ICE AND SIBERIAN SNOW COVER
FiOS1 News Weather Forecast For Long Island
FiOS1 News Weather Forecast For New Jersey
FiOS1 News Weather Forecast For Hudson Valley
NATIONAL WEATHER SERVICE SNOW FORECASTS
LATEST JOESTRADAMUS ON THE LONG RANGE
Weather App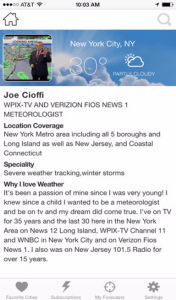 Don't be without Meteorologist Joe Cioffi's weather app. It is really a meteorologist app because you get my forecasts and my analysis and not some automated computer generated forecast based on the GFS model. This is why your app forecast changes every 6 hours. It is model driven with no human input at all. It gives you an icon, a temperature and no insight whatsoever.
It is a complete weather app to suit your forecast needs. All the weather information you need is right on your phone. Android or I-phone, use it to keep track of all the latest weather information and forecasts. This weather app is also free of advertising so you don't have to worry about security issues with your device. An accurate forecast and no worries that your device is being compromised.
Use it in conjunction with my website and my facebook and twitter and you have complete weather coverage of all the latest weather and the long range outlook. The website has been redone and upgraded. Its easy to use and everything is archived so you can see how well Joe does or doesn't do when it comes to forecasts and outlooks.
Just click on the google play button or the apple store button on the sidebar for my app which is on My Weather Concierge. Download the app for free. Subscribe to my forecasts on an ad free environment for just 99 cents a month.
Get my forecasts in the palm of your hand for less than the cost of a cup of Joe!