With a cold front through and moving south it does get hung up for a short time today until high pressure in New England builds southward. That process begins later today. There will be some clouds around but temperatures will be about 10 degrees cooler for the afternoon highs . Upper 70s to lower 80s should do it and it will depend on cloud cover. There may be a few showers around early on but they will gradually shift southward. Southern areas of New Jersey and Eastern Pennsylvania might see some showers around into the afternoon. Northern areas in Northeastern Pennsylvania northeast through the Hudson Valley and Northern and Eastern Connecticut should get out of the clouds early on and see increasing amounts of sunshine. That sunshine should begin working its way southward as the day wears on.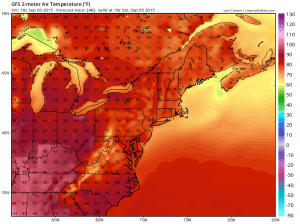 As far as the actual body of the holiday weekend (Saturday through Monday) there are no issues. Saturday will be dry with sunshine everywhere and highs will probably be in the upper 70s to low 80s northern areas and mostly lower 80s south with very comfortable humidity
Sunday the core of the high moves overhead and sunshine continues. It should still be ok on the humidity side though it might edge up just a bit. Temperatures will be in the low to mid 80s everywhere. By Monday the high is to our south and humidity and heat will increase with sunshine. Highs will reach the upper 80s to lower 90s. Each day will be cooler at the shore as we go from northeast winds on Friday and Saturday to more onshore/south Sunday and Monday. Ocean water temps are in the mid to upper 70s everywhere and at the highs of the year so enjoy. It doesn't get warmer than this. Check your marine, shore and rip current conditions during the holiday weekend on the marine forecast page.
If by chance you are thinking about extending your holiday weekend by 2 days, temperatures for Tuesday and Wednesday suggest you should stay by the beach or pool, especially if you send the kids to school!!! Hot weather could even last into Thursday depending on the timing of the next front. As far as travel weather is concerned, if you are driving to your destination today..no issues if you are heading north and east today. A few showers possible if you are heading south or west. No issues anywhere from Delmarva to New England pretty much all holiday weekend long.