Irma Rips Cuba North Coast, Northwest Turn Later Toward SW Florida
Irma Rips Cuba North Coast,
Northwest Turn Later Toward SW Florida
Overnight Irma moved on to the the north coast of Cuba and has been straddling along the Cuban Keys. The eye of the hurricane has been literally bouncing up and down on the barrier islands. Irma came into Cuba last night as a category 5 hurricane with winds of 160 mph. The interaction with the mountainous terrain as well as the circulation being over the island has weakened Irma  overnight. However very soon the eye will emerge into the open waters of the Florida Straights and begin its turn toward the north.
The westward shift at least keeps Irma from making a direct hit to Southeast Florida and the threat now is for a full run at the West Coast of Florida. The trend all through Irma's existence has been to shift to the west and that has indeed played into this in the final days. Now the question is how much re-strengthening will we see when Irma pulls away from the north coast of Cuba. It still seems Irma will be a strong category 4 hurricane as it approaches Southwest Florida.
Radar from Miami shows the outer bands of Irma beginning to bring rains to the mainland and the keys and this activity will be increasing as we go through the day.
Most of the track model guidance is in agreement here with the track now straddling along the west coast of Florida with a landfall further north up the coast. Most of the models bring Irma very close to Tampa St Petersburg. Landfall risk in my view is from Fort Meyers northward. We still don't know how irma is going to react to the upper trough when it turns. I don't want to discount a last minute eastward shift even though if it happens it is not likely to be a large one.
MANY THANKS TO TROPICAL TIDBITS FOR THE WONDERFUL USE OF THE MAPS
                                                          GET JOE A CIGAR IF YOU LIKE
Weather App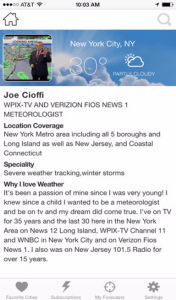 Don't be without Meteorologist Joe Cioffi's weather app. It is really a meteorologist app because you get my forecasts and my analysis and not some automated computer generated forecast based on the GFS model. This is why your app forecast changes every 6 hours. It is model driven with no human input at all. It gives you an icon, a temperature and no insight whatsoever.
It is a complete weather app to suit your forecast needs. All the weather information you need is right on your phone. Android or I-phone, use it to keep track of all the latest weather information and forecasts. This weather app is also free of advertising so you don't have to worry about security issues with your device. An accurate forecast and no worries that your device is being compromised.
Use it in conjunction with my website and my facebook and twitter and you have complete weather coverage of all the latest weather and the long range outlook. The website has been redone and upgraded. Its easy to use and everything is archived so you can see how well Joe does or doesn't do when it comes to forecasts and outlooks.
Just click on the google play button or the apple store button on the sidebar for my app which is on My Weather Concierge. Download the app for free. Subscribe to my forecasts on an ad free environment for just 99 cents a month.
Get my forecasts in the palm of your hand for less than the cost of a cup of Joe!