IRMA MOVING WEST GFS MODEL GOES OFF THE DEEP END
IRMA MOVING WEST GFS MODEL GOES OFF THE DEEP END
First off let us start off with the latest on Irma.This afternoon Irma seemed to undergo another round of intensification and top winds are 120 mph as of the advisory time however since then the hurricane has become a bit more ragged so it may be undergoing another eye wall replacement cycle. This happens when the eye peaks in intensity and then breaks down as a new eye forms. These cycles are almost impossible to forecast and there can be weakening that occurs until the process is complete. The track is now to the west and a southwest motion is expected to develop soon.
..IRMA TURNS WESTWARD WITH 120-MPH WINDS…
SUMMARY OF 500 PM AST…2100 UTC…INFORMATION
———————————————-
LOCATION…18.8N 39.1W
ABOUT 1495 MI…2405 KM E OF THE LEEWARD ISLANDS
MAXIMUM SUSTAINED WINDS…120 MPH…195 KM/H
PRESENT MOVEMENT…W OR 275 DEGREES AT 13 MPH…20 KM/H
MINIMUM CENTRAL PRESSURE…964 MB…28.47 INCHES
WATCHES AND WARNINGS
——————–
There are no coastal watches or warnings in effect.
Interests in the northern Leeward Islands should monitor the
progress of this system.
DISCUSSION AND 48-HOUR OUTLOOK
——————————
At 500 PM AST (2100 UTC), the center of Hurricane Irma was located
near latitude 18.8 North, longitude 39.1 West. Irma is moving toward
the west near 13 mph (20 km/h). A turn toward the west-southwest
is expected tomorrow.
Maximum sustained winds are near 120 mph (195 km/h) with higher
gusts. Irma is a category 3 hurricane on the Saffir-Simpson
Hurricane Wind Scale. Fluctuations in strength, up or down, are
possible during the next few days, but Irma is expected to remain a
powerful hurricane through the weekend.
Hurricane-force winds extend outward up to 25 miles (35 km) from the
center and tropical-storm-force winds extend outward up to 105 miles
(165 km).
The estimated minimum central pressure is 964 mb (28.47 inches).
HAZARDS AFFECTING LAND
———————-
None
From the water vapor imagery the upper low to the northwest of Irma is weakening and stretching southwestward. This probably means that any shear issues in the future should be minimal and the clouds flowing southwest in the upper flow suggest the southwest motion should begin soon.
Now a few words about tonight's GFS model run. By now many of you have probably seen this from the late afternoon model run bringing a category 3 (or 4) hurricane up the east coast and over New York City.
GFS LATE AFTERNOON MODEL RUN NEXT WEEKEND CLICK TO ANIMATE
What does this mean? Well for one thing let us remember that this is one of many possibilities that the GFS has given us over the last number of days including 2 landfalls in Maine, one in Nova Scotia, over Eastern Long Island and Rhode Island, one in Chesapeake Bay and several out to sea solutions. It is only one of many possibilities including one that it has not shown which is to take something in along the Southeast coast of the US. Why is the model doing this? Well it may have something to do with the fact that the models view of the upper air is completely different on every single run. There has been very little consistency for any forecaster to follow as the upper air changes not by a little but it makes 360 degree changes from run to run!
GFS UPPER AIR FOR NEXT SUNDAY SEPTEMBER 12, 2017 CLICK TO ANIMATE

The differences from run to run are ridiculous and will be impossible to justify until we get a handle on which upper patter forecast (if any ) is the right one. The one disturbing development in this run is the fact that this model run is faster with the storm which may be impacting not only how the model is handling the jet stream across the Eastern US, but also the faster movement brings the storm along the east coast right as the trough is swinging around. In other words it would be perhaps the worst case scenario when it comes to the timing of the two features.
GFS ENSEMBLES LATE THIS AFTERNOON ARE ALL WELL TO THE SOUTH
This is good time to look at the GFS Ensembles and their view. The ensembles with all its members show that they are all concentrated along the Southeast US & over Florida and showing that not a single ensemble member is anywhere close to New York City.  This to me says that in a few hours when the new overnight run of the GFS comes out we will find another area seeing landfall. My bet is that it will be further south.
MANY THANKS TO TROPICAL TIDBITS FOR THE WONDERFUL USE OF THE MAPS
                                                          GET JOE A CIGAR IF YOU LIKE
Weather App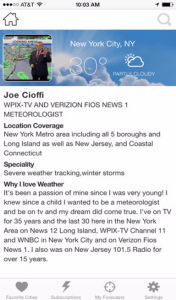 Don't be without Meteorologist Joe Cioffi's weather app. It is really a meteorologist app because you get my forecasts and my analysis and not some automated computer generated forecast based on the GFS model. This is why your app forecast changes every 6 hours. It is model driven with no human input at all. It gives you an icon, a temperature and no insight whatsoever.
It is a complete weather app to suit your forecast needs. All the weather information you need is right on your phone. Android or I-phone, use it to keep track of all the latest weather information and forecasts. This weather app is also free of advertising so you don't have to worry about security issues with your device. An accurate forecast and no worries that your device is being compromised.
Use it in conjunction with my website and my facebook and twitter and you have complete weather coverage of all the latest weather and the long range outlook. The website has been redone and upgraded. Its easy to use and everything is archived so you can see how well Joe does or doesn't do when it comes to forecasts and outlooks.
Just click on the google play button or the apple store button on the sidebar for my app which is on My Weather Concierge. Download the app for free. Subscribe to my forecasts on an ad free environment for just 99 cents a month.
Get my forecasts in the palm of your hand for less than the cost of a cup of Joe!