Intensifying Coastal Storm Heads Northeastward Today Breezy Cold Sunday

Weather in 5/Joe & Joe Weather Show Latest Podcast
Intensifying Coastal Storm Heads Northeastward Today Breezy Cold Sunday
Low pressure moving off the Delmarva Peninsula will be moving northeast through the coastal waters today and strengthening along the way. Rain overnight is gradually coming to an end from west to east across Eastern Pennsylvania and Western New Jersey but it will take longer to clear the coastal counties as well as the Lower Hudson Valley, Southern New England and Long Island.
SATELLITE

REGIONAL RADAR

The storm signature on the satellite and radar is impressive enough and over the Delmarva Peninsula we are seeing the development of what is known as a comma head which is an intense looking area of clouds and heavy precipitation. If you get under that comma head you get clobbered with either rain or in the case of interior Southern New England, snow when it gets there. Meanwhile heavy rain is moving through Southern and Southeastern New England while dry air pushes east across Pennsylvania on the back side.
LOCAL RADAR NEW YORK CITY
LOCAL RADAR PHILADELPHIA

There are no major changes in the outlook for today. Heavy rain changes to snow across Northern Connecticut from west to east. Winter Storm Warnings are up from Northeast Connecticut to Maine. Wind Advisories for the Eastern Half of Long Island with High Wind and Storm Warnings for Southeastern New England.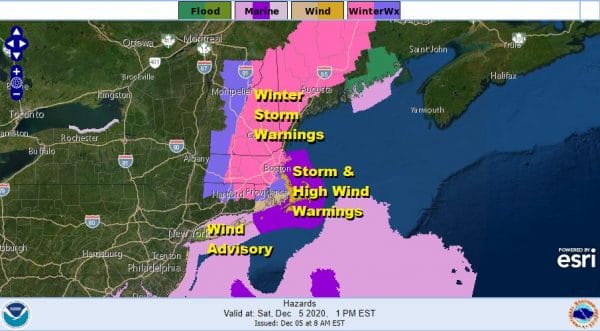 As far as snow is concerned NWS has raised numbers particularly across East Central Massachusetts and Northeast Connecticut. I'm not quite sure why they did this. Otherwise the forecast snow amounts for other areas in New England remain about the same.
My forecast for snow remains unchanged. While the upper features are impressive enough, there isn't a whole lot of cold air getting involved so if there is going to be some upside in snow, you better get solid precipitation intensity. I left my numbers alone from yesterday.
Weather conditions are going to improve late today from west to east and we should clear out tonight. Gusty winds continue overnight. Temperatures today will settle in the 30s and then drop to the upper 20s and lower 30s by morning. Sunday we will see sunshine but it will be breezy and cold. Highs will just be in the upper 30s and lower 40s.
The week ahead looks relatively uneventful and dry. Another storm forms off the Carolinas and heads east with no issue here. We may see some  clouds Monday thanks to the last upper trough swinging through otherwise we should see some sun each day this week. Monday into Wednesday will be cold with daytime highs in the upper 30s to lower 40s and nighttime lows in the 20s to some lower 30s in warmer urban settings. Temperatures will move higher toward the end of the week with highs in the upper 40s and lower 50s Thursday and Friday.
MANY THANKS TO TROPICAL TIDBITS FOR THE USE OF MAPS
Please note that with regards to any severe weather,  tropical storms, or hurricanes, should a storm be threatening, please consult your local National Weather Service office or your local government officials about what action you should be taking to protect life and property.