Improving Weather Conditions Ahead Dry Week But Another Storm Threatens Next Weekend
Our early spring like storm system has run its course with heavy rains that came through today and now those rains are shifting northward and northeastward. There are still some leftover clouds around but as the satellite picture shows, the arm of bright white clouds that arcs back to an upper air and surface low in the Great Lakes has swept out the rains and drier air will slowly move in overnight setting us up for improving weather conditions on Sunday. Lows by morning will be in the mid to upper 30s.
SATELLITE

REGIONAL RADAR

Regional and local radars are showing the heavy rains to the northeast moving through New England with just some stray showers to the west and southwest moving northward. Most areas finished up with 3/4's of an inch to 1.25 inches with some locally higher amounts.
LOCAL RADAR NEW YORK CITY
LOCAL RADAR PHILADELPHIA

There will be a very slow downtrend in temperatures over the next several days. The air behind this system isn't all that cold but it is at least going to take temperatures down close to average by the time we get to midweek. Sunday should see a mix of sun and clouds with most highs in the 40s.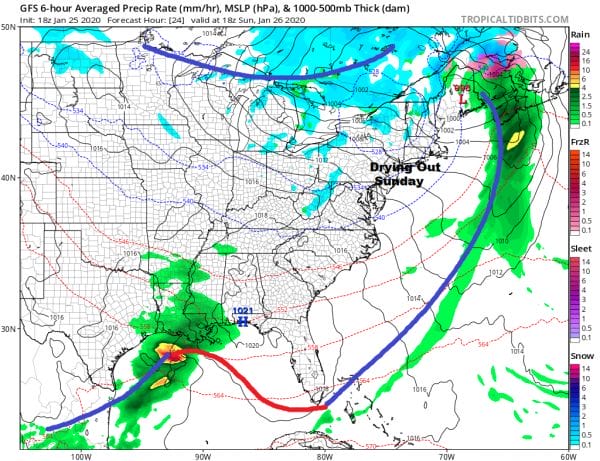 Other than some clouds from time to time we will be dry all week with some sunshine each day right into Friday. A series of weak lows will move across the Gulf of Mexico with little consequence. Monday's highs will be in the low to mid 40s. Tuesday's highs will be in the upper 30s to lower 40s. Wednesday Thursday and Friday will be in the 30s to near 40.
The last low in the series moving across the Gulf States late this week will be the most important one as it turns up the East Coast. We are seeing increasing chances of a major storm developing from this however it should be noted that the amount of cold air that is around is minimal at best. Dynamics will ultimately drive the question of rain or snow when this system gets here next weekend. Models will still be moving things around in the coming days though the spread will narrow. We will discuss the prospects of this system, it evolution and other details on our weather platform on Patreon.
MANY THANKS TO TROPICAL TIDBITS FOR THE USE OF MAPS
Please note that with regards to any severe weather,  tropical storms, or hurricanes, should a storm be threatening, please consult your local National Weather Service office or your local government officials about what action you should be taking to protect life and property.