Ice Storm Winter Storm Warnings Upstate NY New England Advisories NE PA NW NJ
If you are travelling today north into upstate NY or New England it is probably wise to do it before precipitation arrives from the next storm system. Low level cold air will bleed southward tonight into Monday night which will produce freezing rain issues. In fact this could be a serious ice storm for some areas and topography will be the driving force here. Ice accretion amounts of over an inch are forecast and this is capable of destruction with trees and power lines being heavily impacted.
Ice Storm Warnings which is something we don't see in these parts too often is i effect for the Catskills and areas west of the Hudson from Sullivan and Ulster counties northward. Also Ice Storm Warnings are posted for Northwest Connecticut and Northwest Massachusetts. Winter Weather Advisory is in effect for a few counties in Northeast Pennsylvania and Northern New Jersey, The Hudson Valley from Dutchess  County northward as well as Connecticut north of Route 84. Winter Storm Warnings are posted mostly north of I-90.
Snow is probably the least concerning aspect of this given the ice issues which are far more serious. Ski areas should do well with a general 6 to 10 inch snowfall especially in Northern New England. The snow issues will be minimal today and tonight and become a bit more wide spread during Monday as this storm redevelops off the New Jersey coast.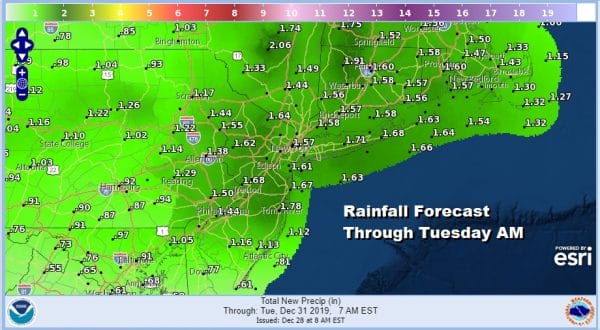 The vast majority of the area from Eastern Pennsylvania to Southern New England the story will be rain on the order of 1 to 2 inches beginning late today and lasting on and off into Monday night. This is a long duration event and we do not expect any improvement in weather conditions until Tuesday morning as the storm moves in to the Gulf of Maine.
SATELLITE

REGIONAL RADAR

For the moment we have time and much of the day today should be dry. The satellite shows clouds beginning to arrive from the west and the regional radar is now showing the beginnings of some rain moving through Virginia northwest into Western Pennsylvania and Ohio. Local radars for the time being are quiet but activity will start to show up on the local radars this afternoon.
LOCAL RADAR NEW YORK CITY
LOCAL RADAR PHILADELPHIA

Low pressure is heading for Northern Minnesota but the problem is that it can't move north into Canada due to it being blocked by high pressure to the north. It then begins to redevelop to the east. This redevelopment allows cold air to bleed southward into the Northeast. It does so slowly at first but then picks up on Monday as another low is forced to redevelop again to the east and off the New Jersey coast.
Often times in situations like this models have a tough time dealing with topography issues where local terrain (mountains verses valleys) trap cold air. It will be important to monitor temperatures inland closely overnight. We don't see any real risks of colder air bleeding further south that what is already being forecast. This may be a tad overdone but when it comes to ice, it is better to be prepared due to its destructive nature and that it can paralyze travel very quickly.
Weather conditions improve New Year's Eve with leftover clouds giving way to some sun and a bit of a gusty breeze. Temperatures Tuesday will be in the 40s and we will be in the upper 30s and lower 40s when the ball drops at Times Square Tuesday night at midnight. Wednesday New Year's Day will be nice and sunny with most highs in the upper 30s to middle 40s.
MANY THANKS TO TROPICAL TIDBITS FOR THE USE OF MAPS
Please note that with regards to any severe weather,  tropical storms, or hurricanes, should a storm be threatening, please consult your local National Weather Service office or your local government officials about what action you should be taking to protect life and property.