Ice Storm Threat For Interior Northeast Continues
Afternoon model runs show perhaps a slightly colder look. Actually the GFS model temperature guidance actually spits out an inch of snow across Northern New Jersey,  Southeastern New York, Long Island, and Coastal Connecticut. It gives 2 inches to Danbury and 4 inches to Hartford. It also gives 4 inches to Poughkeepsie in New York and 6 inches for Albany. For now I'm going to just keep these numbers in the back of my mind as I want to watch the temperature profiles. The European was a little colder as well. The model is further left than the GFS model with the primary low like the nam and this is very important. As I stated in previous posts, if the track of the primary low is further left, it will allow the cold air to wedge southward for a longer period of time. Again at this point I'm just keeping an eye on this and will look ahead to any subtle changes.
This forecast map was issued earlier today and remains unchanged as of this evening. Below are the 2 European snowfall forecast maps. The first is from the model run 24 hours ago and the second is the most current map. It is a shade colder today than yesterday.
EUROPEAN FROM FRIDAY
EUROPEAN FROM TODAY
Now one of the big questions that I'm getting is whether the warm ground will prevent any icing. Remember 60s have made there way all the way up into upstate New York and New England. Well I can tell you that it will only take a few hours of temperatures under 32 to correct all that and an hour in the 20s will do the trick. The ground cools a lot faster than you think. Here are the temperatures for 1am Tuesday morning as precipitation is forecast to arrive. The European model and the GFS seem to agree on the speed while the NAM remains a few hours slower. Also elevation is going to be important here as will valley areas so be careful. Most of you know your local climatology and what happens in cases like this, where some areas tend to be colder or where cold air gets trapped.
For those of you thinking about skiing, upstate New York Ski areas and New England areas, north of I-90 should get a fairly decent thump of 4 to 8 inch snows which will remain on the ground going into the New Years weekend and beyond as the long range is colder for the first part of January.
NATIONAL WEATHER SERVICE SNOW AND ICE FORECASTS
LATEST VIDEO ANALYSIS OF OVERNIGHT MODELS
LATEST JOESTRADAMUS ON THE LONG RANGE
Weather App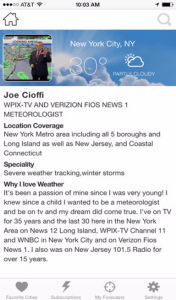 Don't be without Meteorologist Joe Cioffi's weather app. It is a complete weather app to suit your forecast needs. All the weather information you need is right on your phone. Android or I-phone, use it to keep track of all the latest weather information and forecasts. This weather app is also free of advertising so you don't have to worry about security issues with your device. An accurate forecast and no worries that your device is being compromised.
Use it in conjunction with my website and my facebook and twitterand you have complete weather coverage of all the latest weather and the long range outlook. The website has been redone and upgraded. Its easy to use and everything is archived so you can see how well Joe does or doesn't do when it comes to forecasts and outlooks.
Just click on the google play button or the apple store button on the sidebar for my app which is onMy Weather Concierge. Download the app for free. Subscribe to my forecasts on an ad free environment for just 99 cents a month.
Get my forecasts in the palm of your hand for less than the cost of a cup of Joe!