DOWNLOAD MY NEW FREE JOESTRADAMUS WEATHER APP FOR ANDROID
THE APP IS ABSOLUTELY FREE TO ALL BUT CONSIDERING SUBSCRIBING TO PATREON FOR A WEATHER EXPERIENCE FREE OF ADS, EXCLUSIVE VIDEOS FOR MEMBERS ONLY AND MUCH MORE…STARTS AT $2 A MONTH..MESSAGE ME AT ANY TIME

Ice Threat Northwest & North Sunday Rain Sinks Southward Today
We are watching rain on the radar this morning sinking southward from NYC. It is sitting over the southern half of New Jersey at the moment. A high is beginning to build to the north in Southeastern Canada and will be forcing some hallow cold air southward tonight and Sunday. This is going to bring the freezing line southward into Sussex County in New Jersey as well as Northeast Pennsylvania, across the Hudson Valley north of Route 84 and east into Connecticut also north of Route 84.
When it comes to these types of situations figuring out the southern extent of the 32 degree line is always a bit tricky The map above is just a snapshot of temperatures forecast for 8am Sunday. It is conceivable that the freezing line could be a bit further to the south though I'm not expecting the 32 degree line to drain all the way down to the coast. Nonetheless there is room for some error here on the southern extent of the icing.
It is probably likely that winter weather advisories could go up for the areas forecast to get ice later today or tonight so we will let you know about that if it happens. Low pressure is forecast to develop along the Delaware coast and move slowly east. A cold upper trough will be moving overhead later Sunday into Sunday night and create a situation of what I call "do it yourself" cold air. It is also conceivable that precipitation inland could change to wet snow later in the day Sunday. I think there is a chance for some elevation driven accumulating wet snow on the order of a coating to several inches later Sunday afternoon into Sunday evening.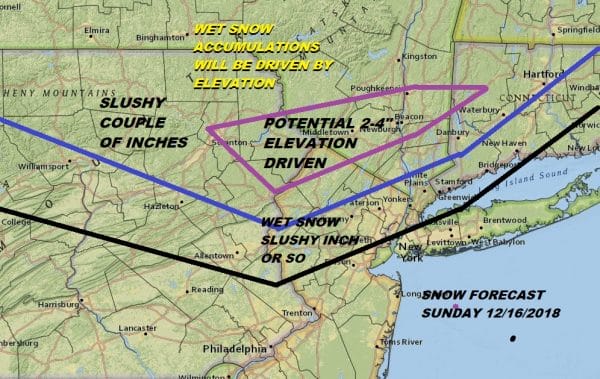 In the meantime the first round of rain is moving away, dry air is trying to penetrate southward as the satellite is showing large breaks in the cloud cover across New England. That dry line could make it to just north of NYC late this afternoon and it would be a shock if skies even partially clear for a few hours this evening north and west of the coast.
EASTERN SATELLITE

REGIONAL RADAR

Southern New Jersey continues to see some rain here and the northern most fringe is nudging northward but it should be deflected to the east in the next few hours and into this afternoon. Radars will load up tonight with rain moving northward between 1am & 7am. This is where the colder air to the northwest gets involved with icing developing after 4am in some areas north and west of Route 84 and into Northwest New Jersey.
LOCAL RADAR NEW YORK CITY
LOCAL RADAR PHILADELPHIA

Sunday the weather system from the south approaches as a surface low develops along the coast and a cold upper low strengthens and moves just to the south of NYC Sunday afternoon into Sunday night.This is where we could see snow getting involved especially in elevated areas north and west of the coast. At this time this is where I would expect to see any wet snow of consequence. We will have more on this later today.
MANY THANKS TO

TROPICAL TIDBITS

FOR THE USE OF MAPS
Please note that with regards to any tropical storms or hurricanes, should a storm be threatening, please consult your local National Weather Service office or your local government officials about what action you should be taking to protect life and property.