Ice Accretion Forecast Maps For Friday Weekend Looks Good
Quiet Start Next Week

Ice Accretion Forecast Maps For Friday Weekend Looks Good
Quiet Start Next Week
Once we get through Friday things calm down for awhile and the weekend while cold, especially Saturday, will be a good one. However we have to get through Friday and dealing with ice. I do hope that this forecast turns out to be overdone or wrong because freezing rain and ice serve no useful purpose at all and can be destructive. Tonight we have clouds rolling in and we have dense fog that has developed as warmer air aloft continues to surge up the East Coast. The ground is having a tougher time but temperatures are rising and we will be in the mid 40s to lower 50s on Thursday. Rain will start to move and and it will become heavy at times tomorrow night into early Friday. That is the easy part of the forecast.
SATELLITE

WEATHER RADAR

Friday is all about how much cold air bleeds southward during the day and brings the 32 degree line to the south. To the north of that line we will have freezing rain into the afternoon. If the temperatures fall slowly below 32 that will by some time for the roads since the rain from overnight will have warmed the ground some. However if we were to drop quickly into the 20s, that is another story. Here is an approximation of where the 32 degree line will be on Friday at various times.
TEMPERATURE FORECAST 10AM FRIDAY
TEMPERATURE FORECAST 4PM FRIDAY

Freezing rain will fall between those times and to the north in the Hudson Valley the 32 degree line will arrive sometime during the early morning hours. This is where the ice accretion will be highest. Long Island is always tricky because it can get a few degrees colder north of the Long Island Expressway sooner than to the south of it. In New Jersey the threat for icing will be strongest north of Route 78. and in Pennsylvania amounts will vary but generally ice accretion will be lower as you go southwest where precipitation will be lighter. Below are the ice accretion forecasts from the National Weather Service and my forecast is inline with these.
Late in the afternoon it all comes to an end. Temperatures will continue to fall so everything will freeze anyway. Skies clear out Friday night. Saturday morning lows will be in the single digits and teens. We will have sunshine Saturday but highs will be just in the 20s. Sunday looks partly sunny with highs in the upper 20s and lower 30s. Next week should start quiet for the first half but there is more cold air coming down late in the week and there are some indications for some storminess toward next weekend but the signals out there at this point are rather vague so we will leave that for the weekend for additional analysis.
Southern New England Ice Forecast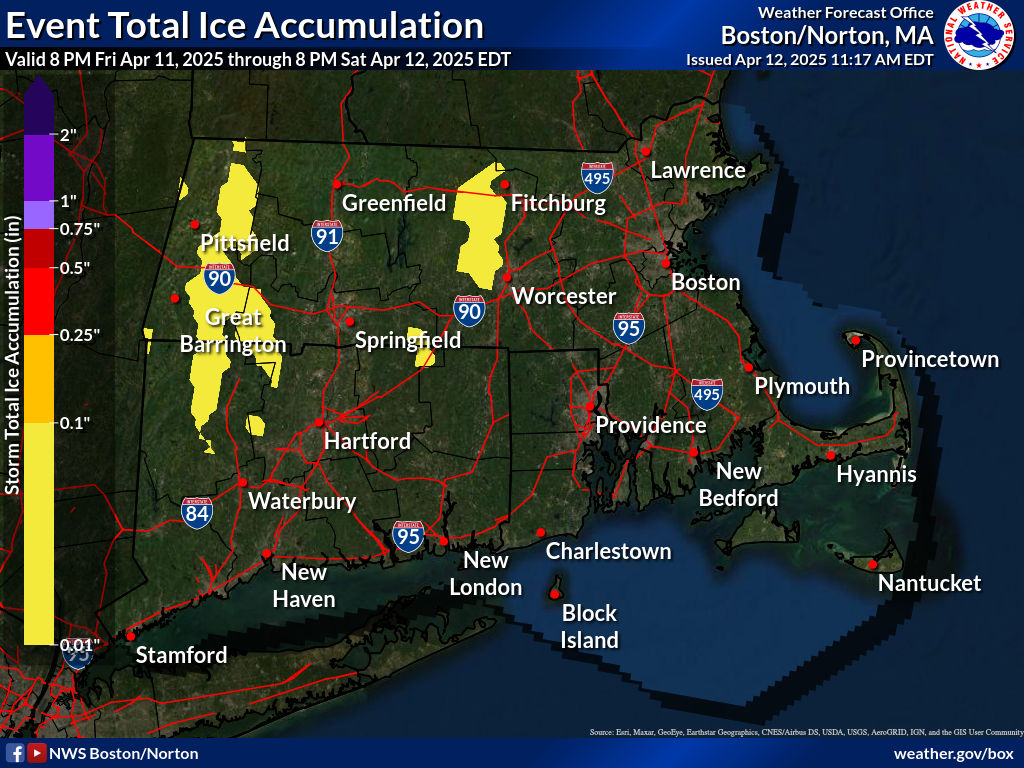 Central PA Ice Forecast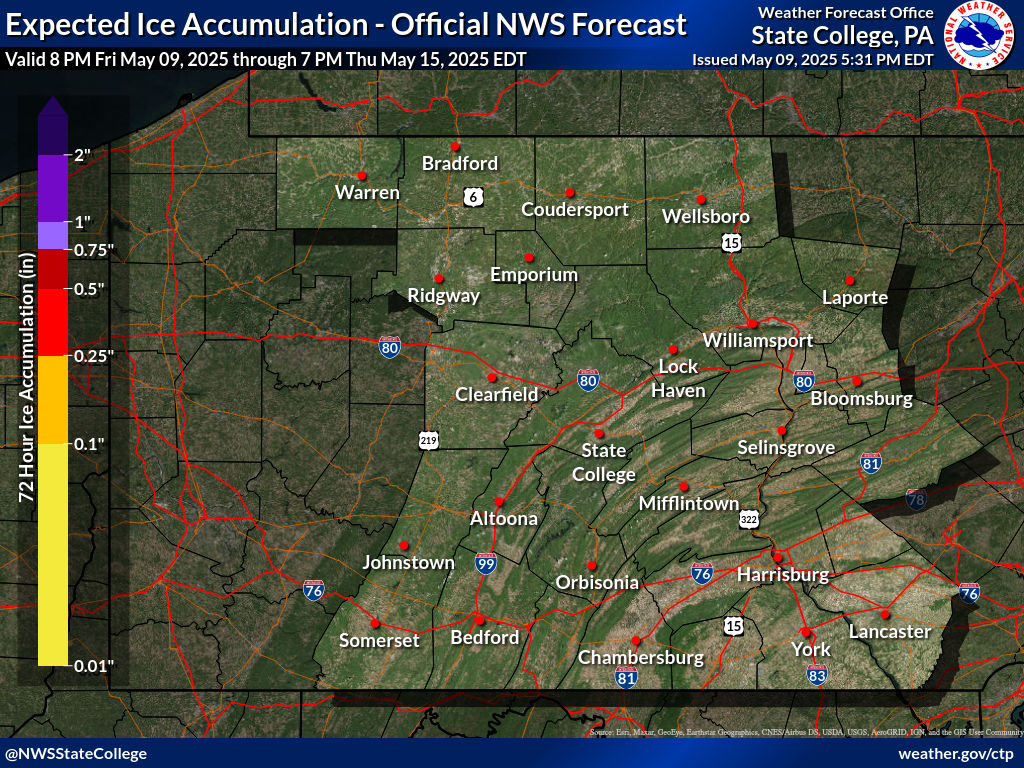 EASTERN PENNSYLVANIA NW CENTRAL & SOUTH JERSEY/DE MD
NORTHERN NEW ENGLAND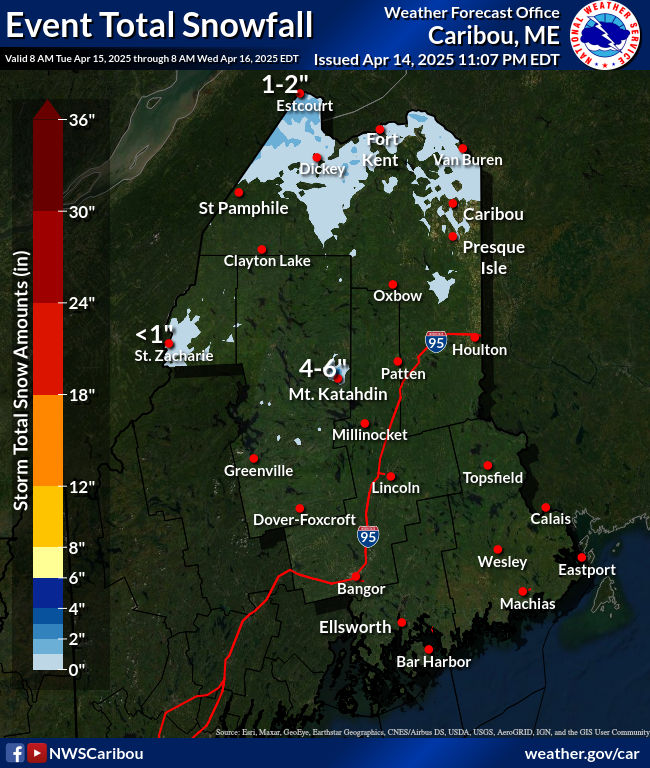 WESTERN NEW ENGLAND
MIDDLE AND UPPER HUDSON VALLEY
CENTRAL NEW YORK & NE PA
WESTERN NEW YORK
CENTRAL & SOUTH CENTRAL PA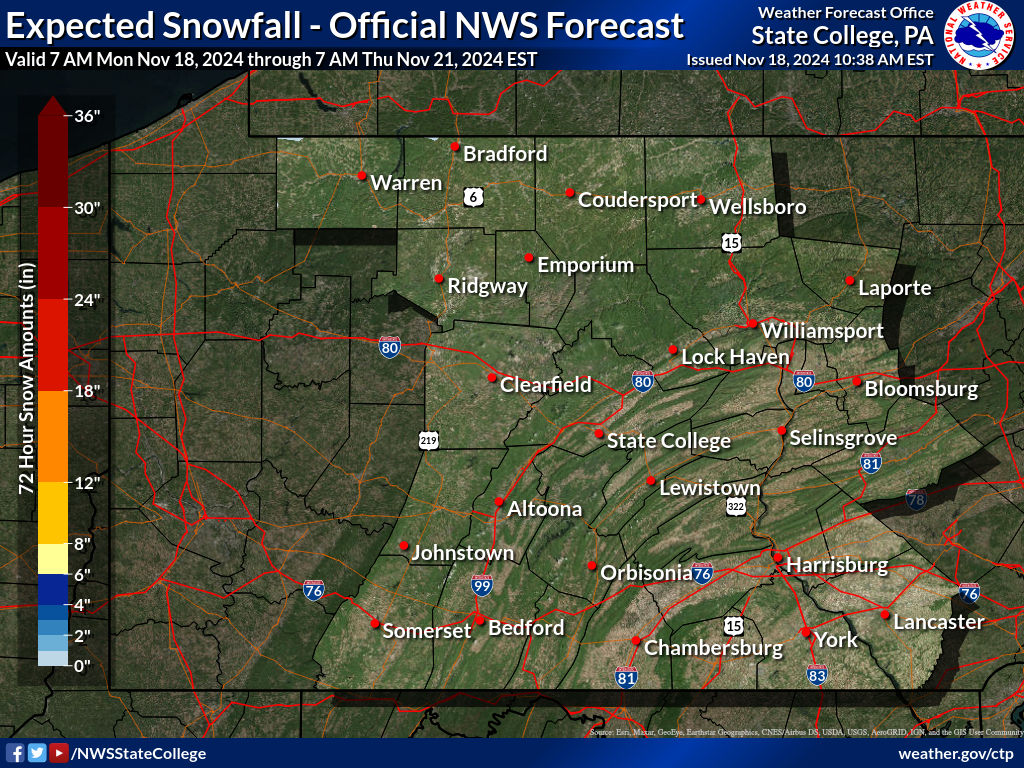 WESTERN PENNSYLVANIA EASTERN OHIO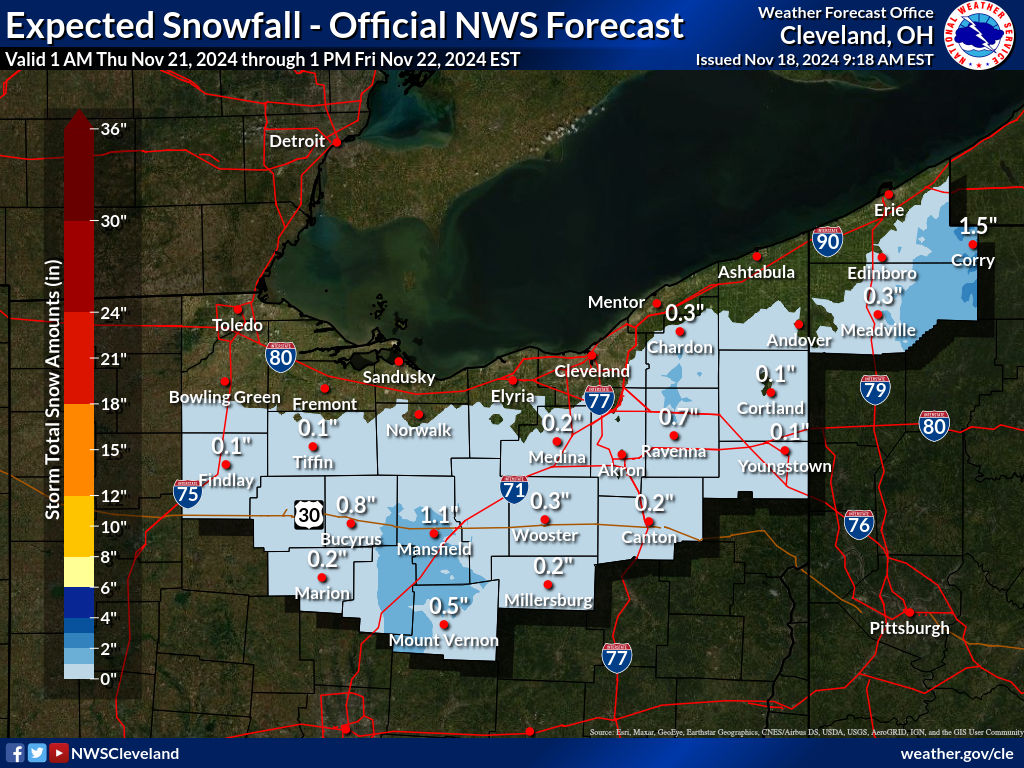 Please note that with regards to any severe weather,  tropical storms, or hurricanes, should a storm be threatening, please consult your local National Weather Service office or your local government officials about what action you should be taking to protect life and property.