Hurricane Warnings NW Bahamas
Tropical Storm Warning
Deerfield Beach to Sebastian Inlet Florida
Hurricane Dorian is nearing the NW Bahamas this morning and a long duration event commences over Great Abaco & Grand Bahama Island today into early Tuesday with 36 to 48 hours of sitting inside the core of a strong category 4 hurricane. Then we will watch to see how close Dorian gets to the Florida coast before making its way north up the coast. The hurricane will come very close to the Florida east coast about as close as you can get in some places without making landfall.
 
LOCATION…26.4N 76.0W
ABOUT 70 MI…110 KM E OF GREAT ABACO ISLAND
ABOUT 255 MI…410 KM E OF WEST PALM BEACH FLORIDA
MAXIMUM SUSTAINED WINDS…150 MPH…240 KM/H
PRESENT MOVEMENT…W OR 280 DEGREES AT 8 MPH…13 KM/H
MINIMUM CENTRAL PRESSURE…934 MB…27.58 INCHES
SATELLITE

Hurricane Dorian continues to make an impressive outstanding presentation on the satellite and Dorian may briefly achieve category 5 status today. Hurricane conditions are overspreading the NW Bahamas this morning. The NW Bahamas will see the core of Dorian and its 150 mph winds.
REGIONAL RADAR

As always ahead of hurricanes this fierce the weather ahead of it can be beautiful as super dry air subsides around it. With that going on today and the core offshore, you many know what awaits you out the east. Tropical Storm Warnings are up for Deerfield to Sebastian Inlet in Florida. Tropical Storm Watch extends south from Deerfield Beach to Golden Beach.
We have two radar views ready to go as Dorian nears with a view from Miami and a view from Melbourne Florida. At the moment some scattered showers are coming in from the east but we still can't see the core in range on radar.
MIAMI FL RADAR
MELBOURNE FL RADAR

As far as the track is concerned it will not begin to move steadily northward until Tuesday so until then with Dorian moving west at 8, it will be a matter of how close it gets before it stalls, makes the turn and moves northward. Below are two loops and I have here the model that is furthest to the left (west) and the other the furthest to the right (east). It seems rather certain that parts of the Florida east coast will experience tropical storm conditions beginning sometime Monday and lasting into Tuesday.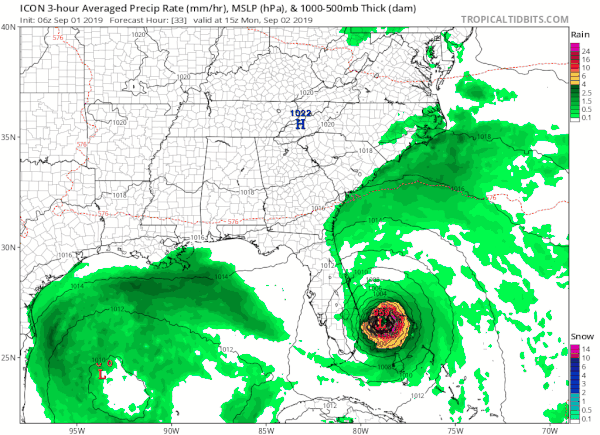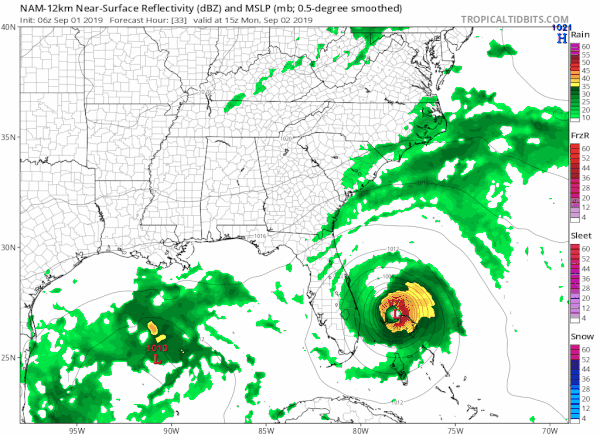 With regards to the longer term the next stop from here will be the Carolinas mid to late week with a chance we could see either a grazing or a landfall in South or North Carolina. From there more uncertainty about whether Dorian continues northeastward and impacts the area from New Jersey to Southern New England with wind and rain (much like a winter storm would) or turns more out to the east with just a glancing impact. We will discuss the longer term implications at some point later today or Monday.
MANY THANKS TO

TROPICAL TIDBITS

FOR THE USE OF MAPS
Please note that with regards to any tropical storms or hurricanes, should a storm be threatening, please consult your local National Weather Service office or your local government officials about what action you should be taking to protect life and property.