Hurricane Matthew Rains In Florida
Hurricane Matthew Rains In Florida
I have not seen a new reconnaissance aircraft report since 10am. The eye of Hurricane Matthew remains well defined. The live realtime radar below shows the eye of Hurricane Matthew now in range as it moves through the Northwestern Bahamas. Landfall on the Florida coast will occur tonight somewhere north of Fort Pierce which is north of Palm Beach and well north of Miami.

BULLETIN
HURRICANE MATTHEW INTERMEDIATE ADVISORY NUMBER  34A...CORRECTED
NWS NATIONAL HURRICANE CENTER MIAMI FL       AL142016
200 PM EDT THU OCT 06 2016

Corrected reference point for location from Nassau to Freeport.

...HURRICANE MATTHEW RELENTLESSLY POUNDING THE BAHAMAS...
...POTENTIALLY DISASTROUS IMPACTS FOR FLORIDA...


SUMMARY OF 200 PM EDT...1800 UTC...INFORMATION
----------------------------------------------
LOCATION...25.7N 78.4W
ABOUT 65 MI...100 KM SSE OF FREEPORT BAHAMAS
ABOUT 125 MI...205 KM ESE OF WEST PALM BEACH FLORIDA
MAXIMUM SUSTAINED WINDS...140 MPH...220 KM/H
PRESENT MOVEMENT...NW OR 325 DEGREES AT 14 MPH...22 KM/H
MINIMUM CENTRAL PRESSURE...939 MB...27.73 INCHES


WATCHES AND WARNINGS
--------------------
CHANGES WITH THIS ADVISORY:

None.

SUMMARY OF WATCHES AND WARNINGS IN EFFECT:

A Hurricane Warning is in effect for...
* Central Bahamas, including Long Island, Exuma, Rum Cay,
San Salvador, and Cat Island
* Northwestern Bahamas, including the Abacos, Andros Island,
Berry Islands, Bimini, Eleuthera, Grand Bahama Island, and
New Providence
* North of Golden Beach Florida to Edisto Beach South Carolina
* Lake Okeechobee

A Hurricane Watch is in effect for...
* North of Edisto Beach to South Santee River South Carolina

A Tropical Storm Warning is in effect for...
* Chokoloskee to Golden Beach
* Florida Keys from Seven Mile Bridge eastward
* Florida Bay
* Anclote River to Suwannee River

A Tropical Storm Watch is in effect for...
* North of Chokoloskee to Anclote River

Interests elsewhere in the Florida Peninsula, the Florida Keys, and
in the Carolinas should monitor the progress of Matthew.

For storm information specific to your area in the United States,
including possible inland watches and warnings, please monitor
products issued by your local National Weather Service forecast
office. For storm information specific to your area outside the
United States, please monitor products issued by your national
meteorological service.


DISCUSSION AND 48-HOUR OUTLOOK
------------------------------
At 200 PM EDT (1800 UTC), the eye of Hurricane Matthew was located
near latitude 25.7 North, longitude 78.4 West.  The hurricane is
moving toward the northwest near 14 mph (22 km/h), and this general
motion is expected to continue today with a turn toward the north-
northwest tonight or early Friday.  On the forecast track, the eye
of Matthew should be near or over Freeport in the Bahamas in the
next few hours, and move close to or over the east coast of the
Florida peninsula through Friday night.

Maximum sustained winds are near 140 mph (220 km/h) with higher
gusts.  Matthew is a category 4 hurricane on the Saffir-Simpson
Hurricane Wind Scale.  Some additional strengthening is possible,
and Matthew should remain a Category 4 hurricane while it approaches
the Florida coast.

Hurricane-force winds extend outward up to 60 miles (95 km) from
the center and tropical-storm-force winds extend outward up to 160
miles (260 km). Nassau in the Bahamas reported 97 mph (156 km/h)
sustained winds earlier today when the northern eyewall moved over
that island.

The estimated minimum central pressure is 939 mb (27.73 inches).


HAZARDS AFFECTING LAND
----------------------
WIND:  Hurricane conditions are still affecting portions of the
central Bahamas and are already spreading across the northwestern
Bahamas.

Hurricane conditions are expected to first reach the hurricane
warning area in Florida by late today and will spread northward
within the warning area through Friday.  Tropical storm conditions
are first expected in Florida within the next several hours.

Hurricane conditions are possible in the hurricane watch area in
northeast Georgia and South Carolina by early Saturday, with
tropical storm conditions possible on Friday night.

Winds increase rapidly in elevation in a tropical cyclone. Residents
in high-rise buildings should be aware that the winds at the top of
a 30-story building will be, on average, about one Saffir-Simpson
category higher than the winds near the surface.

STORM SURGE:  The combination of a dangerous storm surge and large
and destructive waves could raise water levels by as much as the
following amounts above normal tide levels...

Central and Northwestern Bahamas...10 to 15 feet

The water could reach the following heights above ground if the peak
surge occurs at the time of high tide...

Sebastian Inlet to Edisto Beach, including portions of the St.
Johns River...7 to 11 ft
Edisto Beach to South Santee River...4 to 6 ft
Deerfield Beach to Sebastian Inlet...4 to 6 ft
Virginia Key to Deerfield Beach...1 to 3 ft

Surge-related flooding depends on the relative timing of the surge
and the tidal cycle, and can vary greatly over short distances.
Large waves generated by Matthew will cause water rises to occur
well in advance of and well away from the track of the center.

The combination of a dangerous storm surge and the tide will cause
normally dry areas near the coast to be flooded by rising waters
moving inland from the shoreline.  There is a danger of life-
threatening inundation during the next 36 hours along the Florida
east coast, the Georgia coast, and the South Carolina coast from
Deerfield Beach, Florida to Edisto Beach, South Carolina. There is
the possibility of life-threatening inundation during the next 48
hours from north of Edisto Beach to South Santee River, South
Carolina. For a depiction of areas at risk, please see the Prototype
National Weather Service Storm Surge Watch/Warning Graphic. For
information specific to your area, please see products issued by
your local National Weather Service forecast office.

The Prototype Storm Surge Watch/Warning Graphic is a depiction of
areas that would qualify for inclusion under a storm surge watch or
warning currently under development by the National Weather Service
and planned for operational use in 2017.  The Prototype Graphic is
available at hurricanes.gov.

RAINFALL:  Matthew is expected to produce total rainfall amounts in
the following areas:

The Bahamas...8 to 12 inches, isolated totals of 15 inches
Coastal eastern Florida, Georgia, and South Carolina....4 to
8 inches, isolated 12 inches
The Florida Keys...1 to 3 inches, isolated 5 inches
Eastern Cuba...additional 2 to 4 inches, isolated storm-totals
of 20 inches
Central Cuba...additional 2 to 4 inches, isolated storm-totals
of 8 inches

Life-threatening flash floods and mudslides are likely in central
and eastern Cuba.

TORNADOES: Isolated tornadoes are possible along the Atlantic
coastal area of north and central Florida tonight.

SURF:  Swells generated by Matthew will continue to affect portions
of the north coast of Cuba and the Bahamas during the next few days,
and will spread northward along the east coast of Florida and the
southeast U.S. coast through the weekend.  These swells will likely
cause life-threatening surf and rip current conditions.  Please
consult products from your local weather office.

The new European model run loops Matthew back into South Florida early next week. The GFS model does the same. More on this on a JOESTRADAMUS post later today.
HURRICANE MATTHEW EUROPEAN MODEL LOOP CLICK TO ANIMATE
WINTER WEATHER OUTLOOK VIDEOS
In case you missed them I've been previewing the upcoming winter in a series of posts and videos. Here are the first 2. More will be coming along. Links to the latest posts are below.
NEW JERSEY
LONG ISLAND AND NEARBY
WINTER 2016-2017 PART 3 NEW JERSEY
WINTER 2016-2017 PART 1 OCEAN WATER TEMPERATURES
WINTER 2016-2017 PART 2 ARCTIC SEA ICE AND SIBERIAN SNOW COVER
FiOS1 News Weather Forecast For Long Island
FiOS1 News Weather Forecast For New Jersey
FiOS1 News Weather Forecast For Hudson Valley
LATEST JOESTRADAMUS ON THE LONG RANGE
Weather App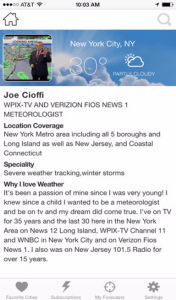 Don't be without Meteorologist Joe Cioffi's weather app. It is really a meteorologist app because you get my forecasts and my analysis and not some automated computer generated forecast based on the GFS model. This is why your app forecast changes every 6 hours. It is model driven with no human input at all. It gives you an icon, a temperature and no insight whatsoever.
It is a complete weather app to suit your forecast needs. All the weather information you need is right on your phone. Android or I-phone, use it to keep track of all the latest weather information and forecasts. This weather app is also free of advertising so you don't have to worry about security issues with your device. An accurate forecast and no worries that your device is being compromised.
Use it in conjunction with my website and my facebook and twitter and you have complete weather coverage of all the latest weather and the long range outlook. The website has been redone and upgraded. Its easy to use and everything is archived so you can see how well Joe does or doesn't do when it comes to forecasts and outlooks.
Just click on the google play button or the apple store button on the sidebar for my app which is on My Weather Concierge. Download the app for free. Subscribe to my forecasts on an ad free environment for just 99 cents a month.
Get my forecasts in the palm of your hand for less than the cost of a cup of Joe!
MENTION JOE CIOFFI AND GET A 5% DISCOUNT