Hurricane Matthew & Overnight GFS Model
Hurricane Matthew & Overnight GFS Model
We continue to watch Hurricane Matthew with a certain amount of awe. It is an example of nature at its most fierce. Heat energy accumulated over a summer season in the tropics is now being released to bring the atmosphere back to some sense of normalcy.
Tonight's GFS run is consistent with the prior 2 model runs which shift Matthew to the left (again). First off we look at Matthew in 72 hours which is Monday evening 7pm. The upper flow shows Hurricane Matthew responding to the weakness in the flow and the Atlantic ridge and heads right into that weakness. The hurricane is over Jamaica Monday evening probably as a category 4 hurricane. Once it crosses Jamaica it heads for Eastern Cuba.
Once it crosses Cuba it emerges into the Bahamas. This is the part of the forecast where all the models have agreed on. It is beyond the Bahamas that the differences keep showing up and we probably won't be able to resolve them on this model run.
From day three to day 5 which takes us to Wednesday night Hurricane Matthew takes a more westward track through the Western Bahamas and finds itself just off the east coast of Florida. Why is is doing this?
Everything on this GFS model run lines up in terms of timing. You have Matthew moving right into the weakness between the Atlantic Ridge and the deep trough coming out of the Plains and into the Midwest. A large ridge builds across Northeastern Canada which creates a very strong high over Nova Scotia and a very strong onshore flow up and down the east coast. Hurricane Matthew will respond to the upper trough as it swings east.
We are now into next Saturday or 7 days from now with the GFS model tonight showing a perfectly phased trough and Matthew moving right up along the coast, almost like a winter time noreaster.
NOW I WANT TO CAUTION EVERYONE…JUST BECAUSE THE GFS PRODUCES THIS MODEL OUTPUT DOESN'T MEAN IT IS A FORECAST…NOR IS IT WHAT I'M FORECASTING.
The model does this because it times everything in the upper atmosphere to produce this result. If the western trough is slower or less deep or faster and deeper or faster and less deep or any other combination the outcome will be different. If Hurricane Matthew is faster or slower the outcome will be different. Right now the GFS continues to suggest that the trough will line up in time as the hurricane moves up the coast. It should be noted that yesterday's European was much slower with Hurricane Matthew and much weaker with the western energy. This resulted in Huricane Matthew getting left behind in the Bahamas. So again nothing has been resolved yet by this model run.
The spaghetti plots of all the hurricane models seem to be clustered around the same area as the GFS model. They do not go out far enough in time to see what happens after this as they only go out to day 7. The upper air of the GFS is below and you can see how the two systems seem to phase together.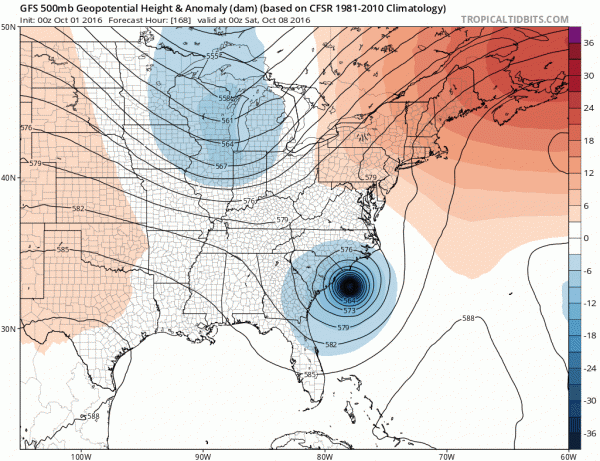 So in the end what we have is one weather model producing an outcome which suggests that Hurricane Matthew moves up the east coast. Remember that this is one model and we have others to look at. The margin of error increases beyond 5 days to several hundred miles. We are no closer to resolving this and we continue to move forward with more model analysis in the coming days. Now we wait for the European model to see whether it follows along or remains in its own world.
URNT12 KNHC 010203 CCA
VORTEX DATA MESSAGE   AL142016
A. 01/01:25:00Z
B. 13 deg 20 min N
  072 deg 04 min W
C. 700 mb 2612 m
D. 138 kt
E. 277 deg 5 nm
F. 024 deg 130 kt
G. 280 deg 8 nm
H. 944 mb
I. 10 C / 3094 m
J. 21 C / 3051 m
K. 13 C / NA
L. CLOSED
M. C12
N. 12345 / 7
O. 0.02 / 1 nm
P. AF303 0914A MATTHEW            OB 14 CCA
MAX OUTBOUND AND MAX FL WIND 133 KT 001 / 9 NM 01:30:00Z
CNTR DROPSONDE SFC WIND 095 / 18 KT
;
The last reconnaissance report above is right before the last advisory was issued by the National Hurricane Center from 10pm Friday which shows a pressure of 944 mb and a maximum sustained wind of 138 knots. It will be interesting to see if the deepening levels off tonight or continues for a little while longer.
WINTER 2016-2017 PART 1 OCEAN WATER TEMPERATURES
WINTER 2016-2017 PART 2 ARCTIC SEA ICE AND SIBERIAN SNOW COVER
WINTER 2016-2017 PART 3 NEW JERSEY PREVIEW
WINTER 2016-2017 PART 4 EASTERN PENNSYLVANIA PREVIEW
FiOS1 News Weather Forecast For Long Island
FiOS1 News Weather Forecast For New Jersey
FiOS1 News Weather Forecast For Hudson Valley
LATEST JOESTRADAMUS ON THE LONG RANGE
Weather App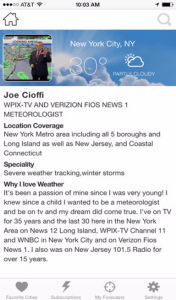 Don't be without Meteorologist Joe Cioffi's weather app. It is really a meteorologist app because you get my forecasts and my analysis and not some automated computer generated forecast based on the GFS model. This is why your app forecast changes every 6 hours. It is model driven with no human input at all. It gives you an icon, a temperature and no insight whatsoever.
It is a complete weather app to suit your forecast needs. All the weather information you need is right on your phone. Android or I-phone, use it to keep track of all the latest weather information and forecasts. This weather app is also free of advertising so you don't have to worry about security issues with your device. An accurate forecast and no worries that your device is being compromised.
Use it in conjunction with my website and my facebook and twitter and you have complete weather coverage of all the latest weather and the long range outlook. The website has been redone and upgraded. Its easy to use and everything is archived so you can see how well Joe does or doesn't do when it comes to forecasts and outlooks.
Just click on the google play button or the apple store button on the sidebar for my app which is on My Weather Concierge. Download the app for free. Subscribe to my forecasts on an ad free environment for just 99 cents a month.
Get my forecasts in the palm of your hand for less than the cost of a cup of Joe!