Hurricane Matthew Florida SE US Coast Threat Increases
Hurricane Matthew Florida SE US Coast Threat Increases
GFS Shifts Left To Florida Coast
Hurricane & Tropical Storm Watches May Be Posted Soon
The overnight model cycle has begun and the gfs model continues its westward trend. The latest run brings Hurricane Matthew almost onshore along the east coast of Northern Florida.
HURRICANE MATTHEW FLORIDA CLICK ON IMAGE TO ANIMATE
The center stays barely offshore and would at the very least create tropical stom conditions up and down the Florida east coast beginning early Friday morning in the south and spreading northward durng the day. From there Hurricane Matthew continues to straddle the coastline of Georgia and then moves just inland in South Carolina near Charleston. Matthew continues north northeast inland of the coast and west of Hatteras and the Outer Banks of North Carolina. It is also beginning to feel the impact of the upper trough swinging through the Great Lakes. This is a critical juncture for the Middle Atlantic and the northeast because if that trough even partially phases it would bring Matthew further up the coast.
HURRICANE MATTHEW FLORIDA TO SOUTH CAROLINA CLICK ON IMAGE TO ANIMATE
As we go from here Hurricane Matthew looks to be making the transition to a post tropical system. The track and structure would suggest that the effects for New Jersey northeastward to Southern New England would be much like a winter time nor'easter and a fairly strong one. The center does not cross any land mass until it gets to Southeastern Massachusetts. This transition and track would bring heavy and potentially drought breaking rains to much of the rain starved areas of the northeast.
When we see the structure of the upper air the GFS continues to lift the trough up to the northeast and phase it together. This is where the GFS and the European Model from earlier continue to disagree as the European has a flat trough which never phases and kicks Matthew out to sea.
The UKMET model which has been leading the charge to a further west solution goes even further west with Hurricane Matthew taking it inland just north of Miami and then taking an inland weakening hurricane/tropical storm right up the coast to Northern New England. The track would be just inland which would mean a substantial rain and wind event for our area but it does also mean that we would not see a direct hit coming from offshore. Each of these tracks would play out in different ways obviously and we will get more specific with regards to this as we get closer.
As of the timing of this post, the European is not out yet  We will of course address this in the morning after the overnight model cycle is complete.
WINTER 2016-2017 PART 1 OCEAN WATER TEMPERATURES
WINTER 2016-2017 PART 2 ARCTIC SEA ICE AND SIBERIAN SNOW COVER
WINTER 2016-2017 PART 3 NEW JERSEY PREVIEW
WINTER 2016-2017 PART 4 EASTERN PENNSYLVANIA PREVIEW
FiOS1 News Weather Forecast For Long Island
FiOS1 News Weather Forecast For New Jersey
FiOS1 News Weather Forecast For Hudson Valley
LATEST JOESTRADAMUS ON THE LONG RANGE
Weather App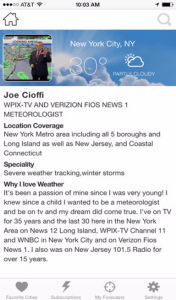 Don't be without Meteorologist Joe Cioffi's weather app. It is really a meteorologist app because you get my forecasts and my analysis and not some automated computer generated forecast based on the GFS model. This is why your app forecast changes every 6 hours. It is model driven with no human input at all. It gives you an icon, a temperature and no insight whatsoever.
It is a complete weather app to suit your forecast needs. All the weather information you need is right on your phone. Android or I-phone, use it to keep track of all the latest weather information and forecasts. This weather app is also free of advertising so you don't have to worry about security issues with your device. An accurate forecast and no worries that your device is being compromised.
Use it in conjunction with my website and my facebook and twitter and you have complete weather coverage of all the latest weather and the long range outlook. The website has been redone and upgraded. Its easy to use and everything is archived so you can see how well Joe does or doesn't do when it comes to forecasts and outlooks.
Just click on the google play button or the apple store button on the sidebar for my app which is on My Weather Concierge. Download the app for free. Subscribe to my forecasts on an ad free environment for just 99 cents a month.
Get my forecasts in the palm of your hand for less than the cost of a cup of Joe!