Hurricane Matthew European GFS
Hurricane Matthew European GFS
Hurricane Matthew seems to be getting better organized this afternoon as the eye becomes better defined. Maximum sustained winds are now 145 mph and pressures have fallen a few millibars. It is a formidable Category 4 hurricane. Hurricane Warnings continue for Jamaica, Haiti, and Eastern Cuba with a Hurricane Watch up for the Southeastern Bahamas.
Weather models this afternoon continue their volatile views of the future. The GFS went from a coastal hurricane moving up the coast to an out to sea solution. The European on the other hand went from a completely out to sea solution to bringing Hurricane Matthew closer to the Southeast Coast of the United States than any run of the last several days. Ultimately the European Model kicks this out to the northeast and does not lift it up the east coast.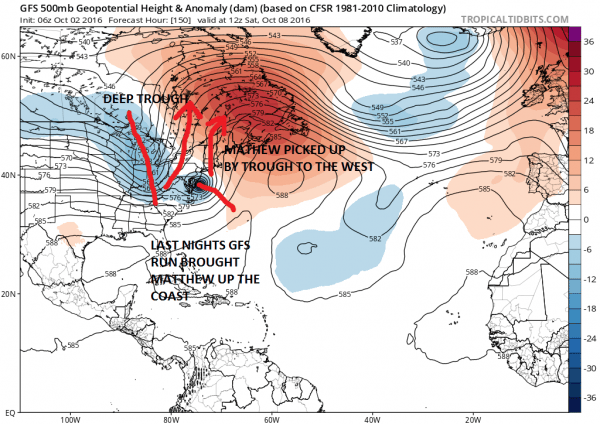 The above map was the GFS mid cycle run from overnight.  The GFS has been flipping back and forth on the strength of the upper trough to the west which in the end is the key to this entire mess. The new run has now flipped back to where that upper trough is not as deep and instead of phasing it with Hurricane Matthew and kicks it out to sea. No surprise here. And it would not be a surprise to see this flip again late this afternoon, AT WHICH POINT I MAY RETIRE!
Now comes today's run of the European which brings Hurricane Matthew to its closes postion to the Southeast US coast than any other run of the last several days. However the European is so flat with that system in the Great Lakes that it turns it east and then drifts it southeast off the Carolinas. Click on the map to show the loop of the European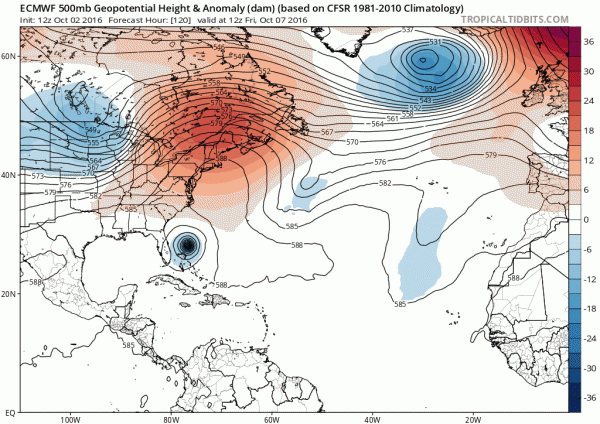 Both models look very similar with the strength of the approaching trough in the Great Lakes through day 5. It is after that that they diverge. The European is so flat with that system from the west that you can barely find it. Matthew winds up getting trapped underneath and to the south and winds up meandering for too days off the Carolinas.
But of course it does not end here. Matthew then is forced northward in response to several troughs coming into play from the west and south! Click on the map to make it loop.
Given the continuially changing model runs I am still no closer to figuring all this out. A couple of takeaways however is that the European over the last 5 days has not shown anything like the GFS has shown. I would say that until it shows Hurricane Matthew moving up the coast, I would probably favor and out to sea solution. On the other hand the GFS flipping back and forth and the horrible model volatility would suggest any forecast this far out is done with an extremely low degree of confidence. I said days ago that we would be no closer to a solution until the middle of this coming week and I venture to say that we are still no closer.
Now to make things a little more confusing are the spaghetti plots which show several models bringing it right up the coast while most keep it offshore. New model runs will be out in a few hours. Let the confusion continue to reign!
WINTER 2016-2017 PART 1 OCEAN WATER TEMPERATURES
WINTER 2016-2017 PART 2 ARCTIC SEA ICE AND SIBERIAN SNOW COVER
WINTER 2016-2017 PART 3 NEW JERSEY PREVIEW
WINTER 2016-2017 PART 4 EASTERN PENNSYLVANIA PREVIEW
FiOS1 News Weather Forecast For Long Island
FiOS1 News Weather Forecast For New Jersey
FiOS1 News Weather Forecast For Hudson Valley
LATEST JOESTRADAMUS ON THE LONG RANGE
Weather App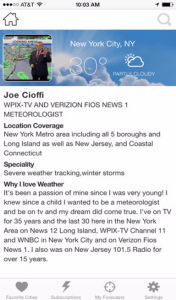 Don't be without Meteorologist Joe Cioffi's weather app. It is really a meteorologist app because you get my forecasts and my analysis and not some automated computer generated forecast based on the GFS model. This is why your app forecast changes every 6 hours. It is model driven with no human input at all. It gives you an icon, a temperature and no insight whatsoever.
It is a complete weather app to suit your forecast needs. All the weather information you need is right on your phone. Android or I-phone, use it to keep track of all the latest weather information and forecasts. This weather app is also free of advertising so you don't have to worry about security issues with your device. An accurate forecast and no worries that your device is being compromised.
Use it in conjunction with my website and my facebook and twitter and you have complete weather coverage of all the latest weather and the long range outlook. The website has been redone and upgraded. Its easy to use and everything is archived so you can see how well Joe does or doesn't do when it comes to forecasts and outlooks.
Just click on the google play button or the apple store button on the sidebar for my app which is on My Weather Concierge. Download the app for free. Subscribe to my forecasts on an ad free environment for just 99 cents a month.
Get my forecasts in the palm of your hand for less than the cost of a cup of Joe!