Hurricane Matthew 120 MPH GFS & Euro Model Analysis
UPDATE AT 5PM Hurricane Matthew 140 MPH
GFS & Euro Model Analysis
..MATTHEW RAPIDLY STRENGTHENS TO A POWERFUL CATEGORY 4 HURRICANE...
...HURRICANE WATCH ISSUED FOR JAMAICA...


SUMMARY OF 500 PM EDT...2100 UTC...INFORMATION
----------------------------------------------
LOCATION...13.5N 71.6W
ABOUT 75 MI...120 KM N OF PUNTA GALLINAS COLOMBIA
ABOUT 465 MI...750 KM SE OF KINGSTON JAMAICA
MAXIMUM SUSTAINED WINDS...140 MPH...220 KM/H
PRESENT MOVEMENT...WSW OR 255 DEGREES AT 9 MPH...15 KM/H
MINIMUM CENTRAL PRESSURE...949 MB...28.03 INCHES


WATCHES AND WARNINGS
--------------------
CHANGES WITH THIS ADVISORY:

The government of Jamaica has issued a Hurricane Watch for Jamaica.

A Tropical Storm Watch has been issued for the southwestern coast
of Haiti from the southern border with the Dominican Republic to
Port-Au-Prince.

SUMMARY OF WATCHES AND WARNINGS IN EFFECT:

A Hurricane Watch is in effect for...
* Jamaica

A Tropical Storm Warning is in effect for...
* Colombia/Venezuela border to Riohacha

A Tropical Storm Watch is in effect for...
* Haiti from the southern border with the Dominican Republic to
Port-Au-Prince

A Hurricane Watch means that hurricane conditions are possible
within the watch area.  A watch is typically issued 48 hours before
the anticipated first occurrence of tropical-storm-force winds,
conditions that make outside preparations difficult or dangerous.

A Tropical Storm Warning means that tropical storm conditions are
expected somewhere within the warning area, in this case in the
next 12 hours.

A Tropical Storm Watch means that tropical storm conditions are
possible within the watch area, generally within 48 hours.

Interests elsewhere along the coasts of Venezuela and Colombia and
elsewhere in Hispaniola should monitor the progress of Matthew.
Interests in eastern Cuba should also monitor the progress of
Matthew.

For storm information specific to your area, please monitor products
issued by your national meteorological service.


DISCUSSION AND 48-HOUR OUTLOOK
------------------------------
At 500 PM EDT (2100 UTC), the eye of Hurricane Matthew was located
near latitude 13.5 North, longitude 71.6 West.  Matthew is moving
toward the west-southwest near 9 mph (15 km/h).  A westward motion
at a slower forward speed is expected tonight and Saturday.  A turn
toward the west-northwest is forecast by Saturday night, followed by
a turn toward the northwest on Sunday.  On the forecast track, the
center of Matthew will move north of the Guajira Peninsula this
tonight, move across the central Caribbean Sea on Saturday, and be
near Jamaica on Sunday.

Data from a NOAA Hurricane Hunter aircraft indicate that maximum
sustained winds have increased to near 140 mph (220 km/h) with
higher gusts.  Matthew is a category 4 hurricane on the Saffir-
Simpson Hurricane Wind Scale.  Some additional strengthening is
possible tonight, and some fluctuations in intensity are possible
Saturday and Sunday.  Matthew is expected to remain a powerful
hurricane through Sunday.

Hurricane-force winds extend outward up to 35 miles (55 km) from the
center and tropical-storm-force winds extend outward up to 195 miles
(315 km).

The latest minimum central pressure based on data from the NOAA
aircraft is 949 mb (28.03 inches).


HAZARDS AFFECTING LAND
----------------------
WIND:  Tropical storm conditions are expected in portions of the
warning area in Colombia through tonight.  Hurricane conditions are
possible on Jamaica on Monday, with tropical storm conditions
possible by late Sunday.  Tropical storm conditions are possible
in the watch area in Haiti by late Sunday.

RAINFALL:  Rainfall totals of 2 to 4 inches with isolated higher
amounts are expected over Aruba, Bonaire and Curacao through
Saturday.  Rainfall totals of 2 to 4 inches with isolated higher
amounts are expected along the coast of Colombia from the Venezuelan
border to Riohacha.  Rainfall totals of 1 to 2 inches with isolated
higher amounts are expected along the coast of Venezuela from Coro
to the Colombian border.

Rainfall totals of 10 to 15 inches with isolated maximum amounts of
25 inches are expected across Jamaica and southern and southwestern
Haiti.  These rains may produce life-threatening flash flooding and
mud slides.

SURF:  Swells generated by Matthew are expected to affect portions
of the coasts of Puerto Rico, Hispaniola, Jamaica, Aruba, Bonaire,
Curacao, Venezuela, and Colombia during the next few days.  These
swells are likely to cause life-threatening surf and rip current
conditions.  Please consult products from your local weather office.

Hurricane Matthew continues to intensify rapidly. The pressure has dropped to 960 millibars and maximum sustained winds are now 120 mph. Hurricane Matthew is moving southwest as advertised by most models and is now less than 80 miles north of the coast of Columbia. Look closely at the water vapor loop below and you can see the eye beginning to develop.
The visible satellite loop shows the appearance of a well defined eye that is moving southwestward. Strengthening appears to be continuing though at some point the rapid deepening that began yesterday will likely level off.
This afternoon's run of weather models continue show the unfolding mystery regarding Hurricane Matthew in the medium and longer term. Models in general have trended left again on this run in part responding probably to a slower northward movement in the medium range period. The GFS has been faster than the European and still as faster but the time frame between the two models is shrinking with every run and coming toward the European's view of speed.
All the key players remain on board here with some differences since yesterday and last night. The weak trough off the New England coast is gone on the GFS and only a remnant trough remains on the European. Both models show Hurricane Matthew tracking around the Atlantic Ridge. The trough in the Plains continues to track to the east. The European is further south with the hurricane next Wednesday morning.
At this point the models part company in a severe way. The GFS swings the trough east and brings Matthew out to the northeast. The European now has a new vision of what might happen.
The European model is very flat with that system from the Plains now in the Great Lakes. A ridge is building across the Gulf States and Hurricane Matthew sits in between that ridge and the weaker Atlantic Ridge! Models of course are in 2 completely different worlds at day 9.
The European model would suggest either that Matthew gets caught by the westerlies to the northeast and gets pushed east northeastward…or the ridge builds over and north as that trough lifts out and brings Matthew to a halt or deflects it back westward. The GFS takes Matthew to southeast of Cape Cod and hooks it back into coastal Maine!
You can't help but laugh at these model runs with their wild run to run changes and complete pattern flips. We are still in the day 7-10 time frame. GUESS WHAT…MORE CHANGES ON THE NEXT RUN! Meanwhile lets see how intense Hurricane Matthew gets. On the European the pressure is under 930 mb or close to a category 5 hurricane. Oh and by the way the European actually drifts the hurricane southward between days 9 and 10!
WINTER 2016-2017 PART 1 OCEAN WATER TEMPERATURES
WINTER 2016-2017 PART 2 ARCTIC SEA ICE AND SIBERIAN SNOW COVER
WINTER 2016-2017 PART 3 NEW JERSEY PREVIEW
WINTER 2016-2017 PART 4 EASTERN PENNSYLVANIA PREVIEW
FiOS1 News Weather Forecast For Long Island
FiOS1 News Weather Forecast For New Jersey
FiOS1 News Weather Forecast For Hudson Valley
LATEST JOESTRADAMUS ON THE LONG RANGE
Weather App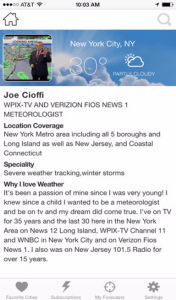 Don't be without Meteorologist Joe Cioffi's weather app. It is really a meteorologist app because you get my forecasts and my analysis and not some automated computer generated forecast based on the GFS model. This is why your app forecast changes every 6 hours. It is model driven with no human input at all. It gives you an icon, a temperature and no insight whatsoever.
It is a complete weather app to suit your forecast needs. All the weather information you need is right on your phone. Android or I-phone, use it to keep track of all the latest weather information and forecasts. This weather app is also free of advertising so you don't have to worry about security issues with your device. An accurate forecast and no worries that your device is being compromised.
Use it in conjunction with my website and my facebook and twitter and you have complete weather coverage of all the latest weather and the long range outlook. The website has been redone and upgraded. Its easy to use and everything is archived so you can see how well Joe does or doesn't do when it comes to forecasts and outlooks.
Just click on the google play button or the apple store button on the sidebar for my app which is on My Weather Concierge. Download the app for free. Subscribe to my forecasts on an ad free environment for just 99 cents a month.
Get my forecasts in the palm of your hand for less than the cost of a cup of Joe!