Hurricane Jose Cat 3 125 MPH Tropical Storm Warnings Hurricane Watch Northern Leewards
Hurricane Jose Cat 3 125 MPH
Tropical Storm Warnings Hurricane Watch Northern Leewards
The other major hurricane is Hurricane Jose with winds of 125 mph and it is moving on a west northwest course and is forecast to pass very close to the Northern Leeward Islands which of course was decimated by Hurricane Irma's buzz saw like passage there 2 days ago. The hurricane has a well defined eye and has held its strength pretty well overnight even through it is now moving over up welled ocean water from Irma  few days before. It appears that the up welling here has not been extensive since ocean water temps have not seemed to have fallen very much here. The depth of the warm water goes far deeper in the ocean here than elsewhere but with less impact. Still the water temperatures seem to be at least 1 degree  C or so lower and that might put a bit of an upside cap here. Also we soon will be coming into the expanding outflow of Irma which will produce some northerly shear though Jose isn't quite at that point yet.
..JOSE MAINTAINING STRENGTH OVER THE CENTRAL ATLANTIC…
SUMMARY OF 800 AM AST…1200 UTC…INFORMATION
———————————————-
LOCATION…16.1N 56.2W
ABOUT 480 MI…775 KM ESE OF THE NORTHERN LEEWARD ISLANDS
MAXIMUM SUSTAINED WINDS…125 MPH…200 KM/H
PRESENT MOVEMENT…WNW OR 285 DEGREES AT 16 MPH…26 KM/H
MINIMUM CENTRAL PRESSURE…957 MB…28.25 INCHES
WATCHES AND WARNINGS
——————–
CHANGES WITH THIS ADVISORY:
None.
SUMMARY OF WATCHES AND WARNINGS IN EFFECT:
A Hurricane Watch is in effect for…
* Antigua, Barbuda, and Anguilla
* Sint Maarten
* St. Martin
* St. Barthelemy
A Tropical Storm Warning is in effect for…
* Antigua, Barbuda, and Anguilla
A Tropical Storm Watch is in effect for…
* Montserrat, St Kitts, and Nevis
* Saba and St. Eustatius
A Hurricane Watch means that hurricane conditions are possible
within the watch area. A watch is typically issued 48 hours
before the anticipated first occurrence of tropical-storm-force
winds, conditions that make outside preparations difficult or
dangerous.
A Tropical Storm Warning means that tropical storm conditions are
expected somewhere within the warning area within 36 hours.
A Tropical Storm Watch means that tropical storm conditions are
possible within the watch area, generally within 48 hours.
For storm information specific to your area, please monitor
products issued by your national meteorological service.
DISCUSSION AND 48-HOUR OUTLOOK
——————————
At 800 AM AST (1200 UTC), the eye of Hurricane Jose was located near
latitude 16.1 North, longitude 56.2 West. Jose is moving toward the
west-northwest near 16 mph (26 km/h). A slower west-northwestward
motion is expected during the next couple of days. On the forecast
track, Jose is expected to be near the northern Leeward Islands on
Saturday.
Maximum sustained winds are near 125 mph (200 km/h) with higher
gusts. Jose is a category 3 hurricane on the Saffir-Simpson
Hurricane Wind Scale. Some slight strengthening is possible later
today or tonight.
Hurricane-force winds extend outward up to 35 miles (55 km) from
the center and tropical-storm-force winds extend outward up to 115
miles (185 km).
The estimated minimum central pressure is 957 mb (28.25 inches).
HAZARDS AFFECTING LAND
———————-
WIND: Hurricane conditions are possible within the hurricane watch
area on Saturday, and tropical storm conditions are expected within
the tropical storm warning areas by Saturday morning. Tropical storm
conditions are possible in the tropical storm watch areas by
Saturday morning.
RAINFALL: Jose is expected to produce total rain accumulations of
2 to 6 inches in the Leeward Islands from Dominica to Anguilla.
Isolated maximum amounts of 10 inches are possible in the northern
Leeward Islands from Antigua and Barbuda to Anguilla. This rainfall
will maintain any ongoing flooding and may cause additional life-
threatening flooding.
SURF: Swells generated by Jose are expected to affect portions of
the Leeward Islands by later today. These swells are likely to
cause life-threatening surf and rip current conditions. Please
consult products from your local weather office.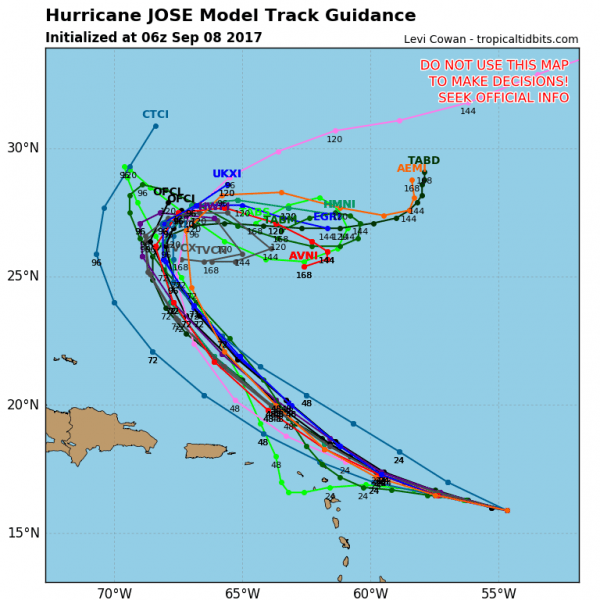 Hurricane track models make it a close call but all of them take Jose just (barely) northeast of the islands which would be ideal. The last thing these folks need here is another major hurricane in 3 days. The European model overnight did make for a closer call.
Either way notice on the hurricane model plots above that Jose will move northward and then being to slow down and possibly stall out. For now Irma is pulling Jose along but once Irma is inland it will be left in a weak upper air flow with no real push to take it in any specific direction for a few days. This might lead to a few interesting scenarios popping up on whether models over the next few days.
MANY THANKS TO TROPICAL TIDBITS FOR THE WONDERFUL USE OF THE MAPS
                                                          GET JOE A CIGAR IF YOU LIKE
Weather App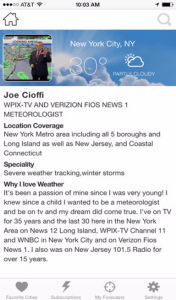 Don't be without Meteorologist Joe Cioffi's weather app. It is really a meteorologist app because you get my forecasts and my analysis and not some automated computer generated forecast based on the GFS model. This is why your app forecast changes every 6 hours. It is model driven with no human input at all. It gives you an icon, a temperature and no insight whatsoever.
It is a complete weather app to suit your forecast needs. All the weather information you need is right on your phone. Android or I-phone, use it to keep track of all the latest weather information and forecasts. This weather app is also free of advertising so you don't have to worry about security issues with your device. An accurate forecast and no worries that your device is being compromised.
Use it in conjunction with my website and my facebook and twitter and you have complete weather coverage of all the latest weather and the long range outlook. The website has been redone and upgraded. Its easy to use and everything is archived so you can see how well Joe does or doesn't do when it comes to forecasts and outlooks.
Just click on the google play button or the apple store button on the sidebar for my app which is on My Weather Concierge. Download the app for free. Subscribe to my forecasts on an ad free environment for just 99 cents a month.
Get my forecasts in the palm of your hand for less than the cost of a cup of Joe!