Hurricane Ian Category 3 125 MPH Winds Heading For Florida
While Northeast Dry Weather Continues


Hurricane Ian has strengthened to a category 3 hurricane overnight and it may not be done yet with reaching peak intensity. This has required the National Hurricane Center to expand warnings this morning along the Florida west coast and go to Tropical Storm Warnings to parts of the Florida East Coast.

SUMMARY OF WATCHES AND WARNINGS IN EFFECT:
A Hurricane Warning is in effect for Cuban provinces of Isla de Juventud, Pinar del Rio, and Artemisa In Florida, Bonita Beach to the Anclote River, including Tampa Bay & Dry Tortugas. A Storm Surge Warning is in effect for Anclote River southward to Flamingo Tampa Bay. A Tropical Storm Warning is in effect for Cuban provinces of La Habana, Mayabeque, and Matanzas, Lower Florida Keys from Seven Mile Bridge westward to Key West. Flamingo to Bonita Beach, Suwannee River to the Anclote River.  Volusia/Brevard County Line south to Jupiter Inlet & Lake Okeechobee A Hurricane Watch is in effect for North of Anclote River to the Suwannee River. Tropical Storm Watch is in effect for North of the Suwannee River to Indian Pass, Altamaha Sound to Volusia/Brevard County line, Deerfield Beach to Jupiter Inlet. At 500 AM EDT (0900 UTC), the center of Hurricane Ian was located near latitude 22.3 North, longitude 83.7 West. Ian is moving toward the north near 12 mph (19 km/h), and this motion is expected to continue today. A turn toward the north-northeast with a reduction in forward speed is forecast tonight and Wednesday. On theforecast track, the center of Ian is expected to move over western Cuba during the next few hours. Ian will then emerge over the southeastern Gulf of Mexico later this morning, pass west of the Florida Keys later today, and approach the west coast of Florida within the hurricane warning area on Wednesday and Wednesday night. Maximum sustained winds are near 125 mph (205 km/h) with higher gusts. Ian is a category 3 hurricane on the Saffir-Simpson Hurricane Wind Scale. Little change in strength is expected while Ian moves over Cuba. Strengthening is expected later this morning after Ian emerges over the southeastern Gulf of Mexico. Ian is forecast to approach the west coast of Florida has a major hurricane.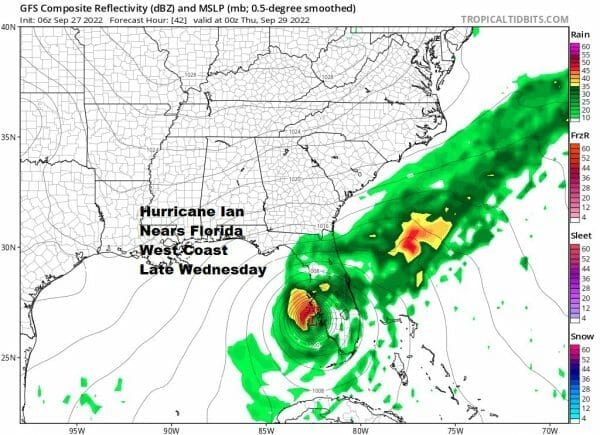 Latest model forecasts are suggesting that this is going to be a long duration event for Florida with the storm possibly stalling between Tampa and Fort Myers for 24 to 30 hours which will prolong heavy rain as we as the strong winds and the tidal flooding. The GFS above is at 42 hours or Wednesday evening 8pm while the map below is Friday 2am with the storm a bit weaker but still sitting in about the same place.
Obviously this is going to be a major rain event for Florida and parts of the Southeast US eventually with several to many inches forecast. 10 inches or more of rain are certainly possible for most of the Peninsula. Meanwhile back here from Southern New England to Eastern Pennsylvania, we are continuing the slow process of upper troughs moving through the Northeast and a stair step decline in temperatures. Dry air covers much of the Eastern US and this is likely to be the case through the rest of the week and into the weekend.
A strong upper low controls the flow in the Eastern US and we will see a mix of sun and clouds today. I don't think we will have any shower issues unless there is an isolated shower well inland. Highs today will reach 70 to 75 near the coast but more clouds inland could hold temperatures down in the upper 60s. Skies should clear tonight with lows in the low to mid 50s coast and warmer urban settings and 40s everywhere else.
Wednesday will be partly sunny with highs in the upper 60s and lower 70s as the cooler air continues to slowly drip southward. Skies will be clear Wednesday night with lows again mid 40s to lower 50s. Thursday and Friday will be the coolest days this week with sunshine both days and highs mostly in the 60s.
The weekend forecast will hinge on the track of Ian which looks to drag its way northward inland in the Southeast US.  The dry high will start to weaken but there should still be enough of a high holding in that Satuday looks mostly okay, though there will be an increase  in cloud cover with highs in the 60s. Sunday the remnant low may still be meandering in the Southeast but some of the rain will start to push up the coast. Rain reaches Central New Jersey and Southeast Pennsylania by afternoon and likely further north into Southern New England Sunday night into Monday.

It should be noted that timing here is highly uncertain given the slow moving nature of Ian as it crawls northward from Florida and into the Southeast US. We also need to see how this system reacts to the next system moving east out of the Plains and whether it drags the system up the East Coast or kicks it out to the east and it gets suppressed.
Please note that with regards to any severe weather,  tropical storms, or hurricanes, should a storm be threatening, please consult your local National Weather Service office or your local government officials about what action you should be taking to protect life and property.