Hurricane Hermine Winds 75 MPH
HERMINE NOW A HURRICANE WINDS 75 MPH
Hurricane Hermine LANDFALL IN NORTH FLORIDA TONIGHT
NOAA aircraft reports that we now have Hurricane Hermine with top winds of 75 mph. The satellite loop below shows an eye developing and the plane reports 77 knots and 988 millibars.
000
URNT12 KNHC 011943
VORTEX DATA MESSAGE   AL092016
A. 01/19:30:10Z
B. 28 deg 17 min N
  085 deg 24 min W
C. 850 mb 1330 m
D. 54 kt
E. 218 deg 39 nm
F. 305 deg 61 kt
G. 219 deg 46 nm
H. 988 mb
I. 17 C / 1520 m
J. 20 C / 1525 m
K. NA / NA
L. NA
M. NA
N. 12345 / 8
O. 0.02 / 1 nm
P. AF307 1309A HERMINE            OB 16
MAX FL WIND 77 KT 153 / 51 NM 18:23:30Z
CNTR DROPSONDE SFC WIND 040 / 5 KT
MAX FL TEMP 21 C 200 / 11 NM FROM FL CNTR
;

This will all be reflected in the new advisory at 5pm. The new spaghetti plots show various tracks and several models including all the global models showing a stalling off the Delaware New Jersey coast and then a slow torturous loop. If this happens it opens the door to some serious coastal flooding and beach erosion for New Jersey.
Hurricane Hermine Spaghetti Plots
FiOS1 News Weather Forecast For Long Island
FiOS1 News Weather Forecast For New Jersey
FiOS1 News Weather Forecast For Hudson Valley
LATEST JOESTRADAMUS ON THE LONG RANGE
Weather App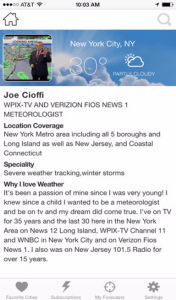 Don't be without Meteorologist Joe Cioffi's weather app. It is really a meteorologist app because you get my forecasts and my analysis and not some automated computer generated forecast based on the GFS model. This is why your app forecast changes every 6 hours. It is model driven with no human input at all. It gives you an icon, a temperature and no insight whatsoever.
It is a complete weather app to suit your forecast needs. All the weather information you need is right on your phone. Android or I-phone, use it to keep track of all the latest weather information and forecasts. This weather app is also free of advertising so you don't have to worry about security issues with your device. An accurate forecast and no worries that your device is being compromised.
Use it in conjunction with my website and my facebook and twitter and you have complete weather coverage of all the latest weather and the long range outlook. The website has been redone and upgraded. Its easy to use and everything is archived so you can see how well Joe does or doesn't do when it comes to forecasts and outlooks.
Just click on the google play button or the apple store button on the sidebar for my app which is on My Weather Concierge. Download the app for free. Subscribe to my forecasts on an ad free environment for just 99 cents a month.
Get my forecasts in the palm of your hand for less than the cost of a cup of Joe!