HRRR Model Rainfall Overnight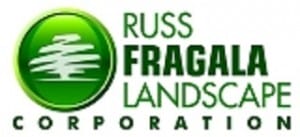 MENTION JOE CIOFFI AND GET A 5% DISCOUNT
We are going to be spending a little more time going forward using the HRRR model. This model is an ultra short range model that only goes out 23 hours into the future. The problem with so many models is that there is a solution for everyone's tastes. With regards to tonight's weather it appears that not much in the way of rain arrives until the early morning hours in western areas and then spreads to the coast along about daybreak
HRRR Model Rainfall Overnight
This is what the radar is forecast to look like at 7am Tuesday. Rain extends east to cover most of Long Island and Connecticut while the back edge is approaching Eastern Pennsylvania and Western New Jersey. With regards to rainfall amounts through 7am amounts are higher obviously to the west of the coast. Coastal areas will play catch up later in the day.
HRRR Model Rainfall Overnight Forecast Rain through 7AM Tuesday
In places where the rain has already taken place amounts are in the quarter to half inch range with some locally higher amounts. Trace amounts to a tenth of an inch are indicated along the coast through 7am Tuesday. With regards to total rainfall. It appears that the rain will hold together for the most part. Area wide amounts will be in the half inch range for the most part.
HRRR Model Rainfall Overnight Total Rainfall Forecast
Once the front passes through around midday weather conditions should be improving Tuesday afternoon as colder air begins to move in. Temperatures will be in the 50s and should settle back into the 40s later in the day.
The longer term has taken a bit of a turn. The blocking developing in the North Atlantic is so strong, that it is now likely that dry air will dominate the weather for the rest of the week; rather than a stronger onshore flow with clouds and rain. If this is the case, it looks like it will be no worse than a mix of sun and clouds for the remainder of the week. Temperatures each day will be on the cool side with highs in the 50s and lows in the 30s. Cooler temperatures are likely along the coast during the day because of the northeast flow.
FiOS1 News Weather Forecast For Long Island
FiOS1 News Weather Forecast For New Jersey
FiOS1 News Weather Forecast For Hudson Valley
NATIONAL WEATHER SERVICE SNOW FORECASTS
LATEST JOESTRADAMUS ON THE LONG RANGE

NOMINATED FOR AN APPY AWARD FOR BEST WEATHER APP!!
Weather App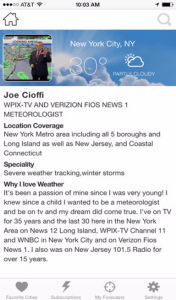 Don't be without Meteorologist Joe Cioffi's weather app. It is really a meteorologist app because you get my forecasts and my analysis and not some automated computer generated forecast based on the GFS model. This is why your app forecast changes every 6 hours. It is model driven with no human input at all. It gives you an icon, a temperature and no insight whatsoever.
It is a complete weather app to suit your forecast needs. All the weather information you need is right on your phone. Android or I-phone, use it to keep track of all the latest weather information and forecasts. This weather app is also free of advertising so you don't have to worry about security issues with your device. An accurate forecast and no worries that your device is being compromised.
Use it in conjunction with my website and my facebook and twitter and you have complete weather coverage of all the latest weather and the long range outlook. The website has been redone and upgraded. Its easy to use and everything is archived so you can see how well Joe does or doesn't do when it comes to forecasts and outlooks.
Just click on the google play button or the apple store button on the sidebar for my app which is on My Weather Concierge. Download the app for free. Subscribe to my forecasts on an ad free environment for just 99 cents a month.
Get my forecasts in the palm of your hand for less than the cost of a cup of Joe!