Housecleaning Weather Day Dry Sunny Skies Wednesday Through Friday

Weather in 5/Joe & Joe Weather Show Latest Podcast
Housecleaning Weather Day Dry Sunny Skies Wednesday Through Friday
The parade of cold front continues as one has passed offshore overnight and now we begin the process of bringing in a very dry air mass. Humidity levels for the rest of the week will go from low to very low and back to low again between now and Friday. Today we still have some leftover energy in the upper atmosphere. To the east on the satellite picture on the upper right is Tropical Storm Bill which developed from a low off North Carolina yesterday. Obviously this has no impact here and it will leave us in partly sunny skies today. Some scattered sho'wers are possible inland thanks to cold unstable air aloft but we don't see that amounting to much and for the vast majority of you it will be a rain free day. Highs will be in the upper 70s to lower 80s.
SATELLITE

Wednesday and Thursday are easy forecasts. We will bottom tonight in the mid 50s to lower 60s. The dayside both Wednesday and Thursday will be mostly sunny. Highs will be in the 70s both days. Dew points are going to be in the 40s which is astounding. This will work out to relative humidity levels under 30%!
We are going to squeeze out one more nice dry day for Friday though highs will be in the upper 70s to lower 80s, it will still be mostly sunny and dew points will only be back into the 50s. They have to come up sometime but this is very nice finish to the work week.
The weekend brings the next cold front on Saturday which is the one day it turns humid and very warm with highs in the mid 80 to near 90 degreee. There could be a thunderstorm or two in the afternoon and evening.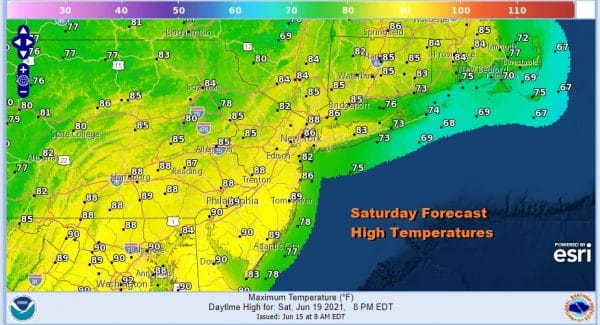 This front will move along. I don't expect it to be too troublesome. it will re-enforce the northwest flow in the Eastern US which means that any tropical system, or any system at all for that matter will pass to our south as the GFS map above shows. Heavy rains in the Gulf States and Southeast US Saturday will stay to our south, leaving us with a nice day for Sunday Father's Day.
Sunday looks partly to mostly sunny. Highs will be in the low to mid 80s. Another front will approach on Monday which will be a very warm and humid day with the chance for thunderstorms followed by another shot of drier air for Tuesday and Wednesday of next week. As long as the northwest flow from Canada continues, it can't get too hot or too humid for too long.

MANY THANKS TO TROPICAL TIDBITS FOR THE USE OF MAPS
Please note that with regards to any severe weather,  tropical storms, or hurricanes, should a storm be threatening, please consult your local National Weather Service office or your local government officials about what action you should be taking to protect life and property.