Hot Humid Monday
Hot Humid Monday
Even though we are seeing a bit of relief today it is still going to be a rather hot and rather humid Monday though not as extreme as it was this weekend. If you have never been to the Gulf Coast, this is  what it is like every day from mid June through mid September. After awhile you get used to it. At least today the extreme heat is gone though highs will reach the 90s. Dew points are going to be about 5 to 7 degrees lower in the upper 60s to near 70 which makes it feel a touch better…but not much.
Monday Hot Humid Forecast Highs
There is the slight chance for an isolated shower or thunderstorm as the Storm Prediction Center has no thunderstorms forecast north of New Jersey Route 195. South of there scattered thunderstorms with a marginal risk of severe weather for South Central Pennsylvania westward and for most of Maryland and Virginia.
This changes on Tuesday as last night's cold front comes back up as a warm front which sets us up for severe weather possibilities in the afternoon and evening on Tuesday. We will be in the warm sector between the warm front and the cold front. This is the sector in a low pressure system where severe weather can develop.
You can already see the moisture building up to the west and southwest across the Mississippi and Ohio Valleys. The bulk of this will be going to our north so we are fine for today.

Radars are quiet today and should remain so through much of tonight before they get busy on Tuesday. Much of this week will be in and out of weak cold fronts and warm fronts with no real push of dry cooler air so we will be dealing with various amounts of heat and humidity for much if not all of this week For a look at the week ahead and a look at the tropics here is my latest YOU TUBE VIDEO
FiOS1 News Weather Forecast For Long Island
FiOS1 News Weather Forecast For New Jersey
FiOS1 News Weather Forecast For Hudson Valley
LATEST JOESTRADAMUS ON THE LONG RANGE
Weather App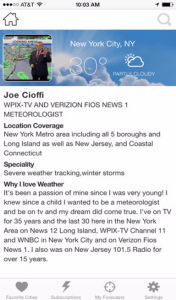 Don't be without Meteorologist Joe Cioffi's weather app. It is really a meteorologist app because you get my forecasts and my analysis and not some automated computer generated forecast based on the GFS model. This is why your app forecast changes every 6 hours. It is model driven with no human input at all. It gives you an icon, a temperature and no insight whatsoever.
It is a complete weather app to suit your forecast needs. All the weather information you need is right on your phone. Android or I-phone, use it to keep track of all the latest weather information and forecasts. This weather app is also free of advertising so you don't have to worry about security issues with your device. An accurate forecast and no worries that your device is being compromised.
Use it in conjunction with my website and my facebook and twitter and you have complete weather coverage of all the latest weather and the long range outlook. The website has been redone and upgraded. Its easy to use and everything is archived so you can see how well Joe does or doesn't do when it comes to forecasts and outlooks.
Just click on the google play button or the apple store button on the sidebar for my app which is on My Weather Concierge. Download the app for free. Subscribe to my forecasts on an ad free environment for just 99 cents a month.
Get my forecasts in the palm of your hand for less than the cost of a cup of Joe!
MENTION JOE CIOFFI AND GET A 5% DISCOUNT