Hot Friday Gives Way to Showers Thunderstorms & A Sharply Cooler Weekend
Hot Friday Gives Way to Showers Thunderstorms & A Sharply Cooler Weekend
We are going to see temperatures rise considerably today as the onshore flow relaxes and a cold front dropping southward through Eastern Canada begins to bring in very warm to hot air ahead of it. In fact we continue to see the upside down nature of temperatures this week as highs will be in the 90s in Northern New England today while cooler highs prevail further south. We will see sunshine today. Winds are turning more south and eventually southwest which may reduce the smoke from the Nova Scotial wild fires today. Highs will reach the 80s everywhere with warm spots well inland reaching mid to upper 80s. Along the coast it will be in the 70s with 60s right on the beaches. Once again it is another day of no rain risks whatsoever.
SATELLITE

WEATHER RADAR

A warm night lies ahead with most low in the mid to upper 50s inland and low and mid 60s warmer urban areas. Friday is going to be a hot day with sunshine. Dew points will rise somewhat but they should still be mostly in the 50s so we aren't talking about oppressive humidity by any means. Highs will reach the low and even middle 90s inland. Cooler highs will prevail right along the immediate coast.
The question of late day thunderstorm risks come into play Friday evening however the atmosphere near the coast is not very unstable if at all. There might be a few pop up thunderstorms that develop well inland in the Hudson Valley and also in Northern and Northwest Connecticut but as those cells move southeast Friday evening they should fall apart.
This weather front will move southward and that will likely trigger off a few showers or a thunderstorm late Friday night into Saturday morning. What is more impressive however is that we will see sharply cooler temperatures moving from northeast to southwest during the day Saturday as the front pushes further south. Rain won't amount to much and some areas may not see much if any rain out of this.
There will likely be a lot of clouds around regardless of rain and take a look at the highs which will be in the 50s in Southeast New England, 60s to near 70 southwest into Northern New Jersey. Upper 70s and 80s in Southeast Pennsylvania and points south will come to an end once the cold front passes.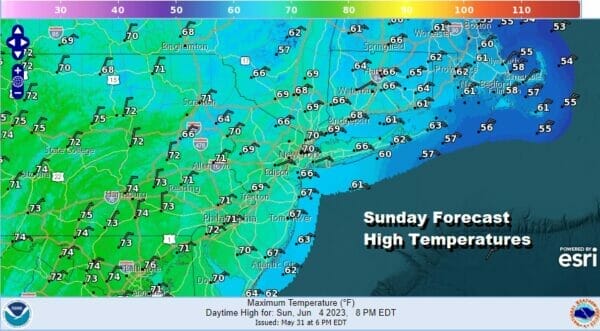 The front will slow after it passes and low pressure develops offshore pinned underneath a colder high to the north Sunday. This looks to leave us in clouds Saturday night and Sunday. There might also be a few showers around which will also hold temperatures down. Most highs Sunday will be in the 60s to perhaps a few 70s well inland and west. Temperatures along the immediate coast will be in the lower 60s.
The pattern for next week is very cool for the Northeast and Mid Atlantic states with mostly below average temperatures. In fact another cold front will be moving southeast from Canada and that should kick out any coastal low offshore. Behind this front will be another shot of cool air for the middle part of next week.
MANY THANKS TO TROPICAL TIDBITS FOR THE USE OF MAPS
Please note that with regards to any severe weather,  tropical storms, or hurricanes, should a storm be threatening, please consult your local National Weather Service office or your local government officials about what action you should be taking to protect life and property.
(Amazon is an affilate of Meteorologist Joe Cioffi & earns commissions on sales.)