Holiday Weekend Starts Warm Ends Cooler Showers Tropical Storm Gulf of Mexico
Holiday Weekend Starts Warm Ends Cooler Showers
Tropical Storm Gulf of Mexico
The Memorial Day Holiday weekend is always the one that has the most weather issues. It is rare to have 3 nice warm days in a row in the spring and this holiday weekend will be no different. If you stretched it out to 4 days and are starting it today you picked very well. Skies are generally clear as evident on the satellite loop though there are some patchy low clouds inland that will burn off rather quickly. This will be a sunny warm day and a good day for the beach until the sea  breeze comes in. Temperatures will reach well into the 80s and the humidity levels are still on the comfortable side. There is no rain anywhere close and if you are travelling in any direction be it north east south or west within reasonable driving distance you have no worries.
EASTERN SATELLITE

REGIONAL RADAR

All is quiet on the radar front and this should remain the case into Saturday afternoon. Saturday will be a very warm day with sunshine into the afternoon before some clouds develop. Late in the day into Saturday night as a cold front approaches we will likely see some showers or even some scattered thunderstorms develop. Temperatures Saturday will be in the 80s to near 90 in some places.
SATURDAY FORECAST HIGH TEMPERATURES
SUNDAY FORECAST HIGH TEMPERATURES
Sunday is going to entirely depend on the position of a stalled front to the south and a high to the northeast which will produce an onshore flow, clouds and the chance for showers. Temperatures will be anywhere from the 60s to near 70 north and east of NYC to the 80s south and southwest of Philadelphia. Weather conditions in Southern New Jersey & Southeastern Pennsylvania are likely to be a bit more summery than areas in Southern New England.
Holiday Weekend Starts Warm Ends Cooler Showers
Tropical Storm Gulf of Mexico
It appears that one round of showers which will be a bit more widespread will occur later Saturday night into Sunday morning as the NAM indicates above. After that they should be of the passing variety and I do not believe that Sunday and Monday are washouts by any means. Meanwhile to the south we will likely have a tropical storm in the Gulf of Mexico the way things are going which would be very rare for this time of year. Regardless of how much this system develops heavy rain will be a big issue with at least 2 to 3 inches in some places between now and Sunday evening with much more to come as this system moves slowly northward.
RAINFALL FORECAST THROUGH SUNDAY EVENING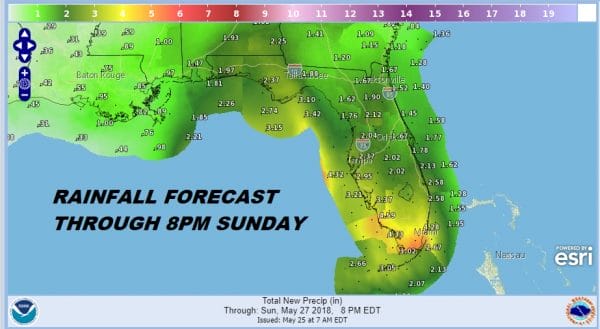 Latest satellite loops show that the system in the Northwest Caribbean is becoming better organized and a tropical depression or tropical storm is likely to form on Saturday. We will have more on this later this morning. In the meantime we discussed this in great detail last night on the JOE & JOE WEATHER SHOW.

GET JOE A CIGAR IF YOU LIKE 
FiOS1 News Weather Forecast For Long Island
FiOS1 News Weather Forecast For New Jersey
FiOS1 News Weather Forecast For Hudson Valley
LATEST JOESTRADAMUS ON THE LONG RANGE