The holiday weekend forecast is looking very good for Saturday through Monday. The next 2 cold fronts have timed themeselves very well with the first one coming through later today and the second one not arriving until later on Tuesday. So the three days in between, Saturday through Monday will be rain free though temperatures will be bouncing around a bit.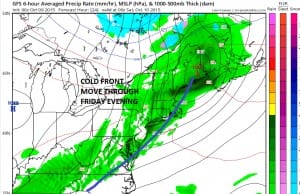 The first front arrives this afternoon so the morning should be dry with the main threat for showers or perhaps an isolated thunderstorm in the mix happening sometime from mid afternoon through mid evening from west to east. The line should move in and out pretty quickly and the rain amounts should be a quarter of an inch or so. The showers will be gone long before midnight and skies should clear out overnight into Saturday morning. Saturday looks to be a good day with a mix of sun and clouds but it will be cooler than we have experienced lately with most highs only in the lower 60s on averge.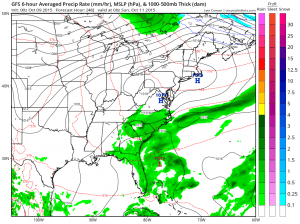 The core of the cool air moves out rather fast so temperatures should reach the mid to upper 60s on Sunday. Monday should be fine with no worse than some patchy high clouds and some sunshine and highs back into the 70s.
The bottom end of this front will stall out and a weak low will probably form off the Southeast Coast of the US. The next front might pick up some of that moisture on Tuesday. Right now the models keep that moisture just offshore but it is pretty close so we will see if it might get involved and enhance any showers we might get later on Tuesday. What follows the front is cooler air for the rest of the week. Later in the week the temperatures might trend lower as a flow from Canada gets slowly established. This should bring temperatures down close to normal this for this time of year which is highs in the middle 60s or so. No big storms are seen on the horizon at this point but we will evaluate the longer term later in the day.
Be sure to download my app and susbscribe to my forecasts. The app is free and a subscription is just 99 cents a month. The app is free from any web advertising and there are no security or tracking issues.