Holiday Weekend Ends Warm Humid Week Ahead Outlook
The holiday weekend moves along and we are finishing it up today with sunshine hot and humid conditions. There are some clouds over Eastern New England and the tail of those clouds covers Long Island and points east but this is diminishing now as a frontal boundary pushes further offshore. Thunderstorms today will likely be confined to Northern New England this afternoon and evening. There is a marginal risk of severe weather there. For everyone else we see just the chance for a scattered shower or thunderstorm popping up late this afternoon and evening. For the vast majority it is a rain free summer Sunday.
SATELLITE

REGIONAL RADAR

Afternoon highs today will be in the upper 80s and lower 90s. Dew points are in the upper 60s to NEAR 70 making things rather uncomfortable and steamy out there so try and stay cool. Not much changes in the week going forward. We have a warm humid night ahead with lows mostly in the upper 60s to midlle 70s.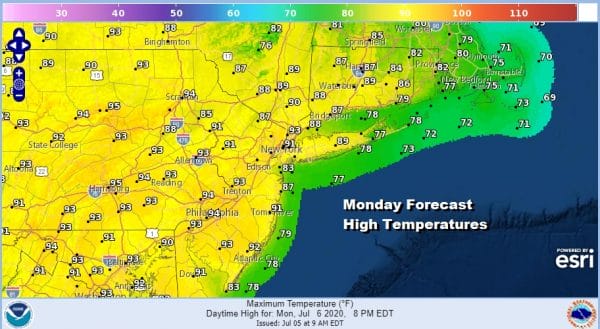 Monday will be very warm to hot with some sunshine each day and the chance for a pop up shower or thunderstorm. Highs will be in the upper 80s and lower 90s with cooler readings at the shore. Nights will be warm and humid with lows in the upper 60s to mid 70s.
Tuesday we may catch a little break as a weak front goes by. Highs will be mostly in the 80s with slightly lower humidity only to go back the other way on Wednesday with hot humid conditions and some sunshine. Highs will be in the upper 80s and lower 90s with the chance for a scattered shower or thunderstorm.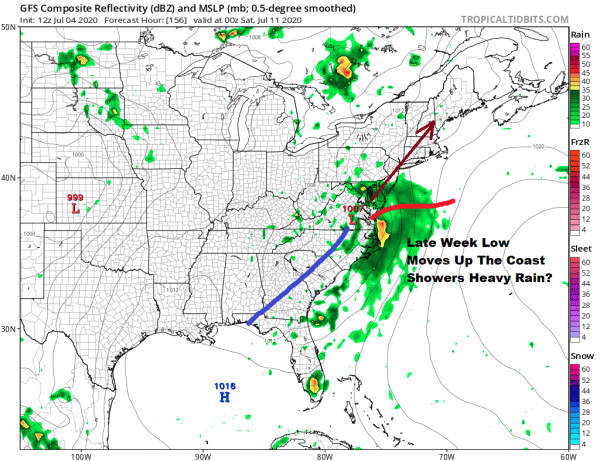 We will continue with very warm and humid conditions for Thursday and Friday and we will watch to see weak low pressure in the Gulf States try to move up the east coast next weekend. There is some uncertainty here as well as a chance this could all get squashed to the south rather than lift northward. The National Hurricane Center is also mentioning this because if the low is further east and offshore it could develop into a tropical system as it heads northeastward. This is all in the land of speculation for the long range. For now we focus on the summer July weather that is in control.
MANY THANKS TO TROPICAL TIDBITS FOR THE USE OF MAPS
Please note that with regards to any severe weather,  tropical storms, or hurricanes, should a storm be threatening, please consult your local National Weather Service office or your local government officials about what action you should be taking to protect life and property.