HISTORIC HURRICANE MICHAEL MAKES LANDFALL 155 MPH WINDS 915 MB
MASS DESTRUCTION STORM SURGE
HEAVY RAINS NOW HEADING UP THE CAROLINAS
BRUSH NEW JERSEY LONG ISLAND THURSDAY NIGHT
Hurricane Michael has made landfall as the second strongest hurricane every to make landfall on the US Gulf Coast and it is the third strongest for the state of Florida. It is the strongest storm ever to make landfall in the Florida landfall with 155 mph winds and a pressure of 919 millibars. The lowest pressure right before landfall hit 915 mb. This was pretty much on the cusp of a category 5 hurricane when it crossed the coast at Mexico Beach east of Panama City. Even though the storm is now inland the eye still remains well defined as it plows northeastward. 100 mph sustained winds were commonplace along the Gulf Coast as of 3pm at Panama City and other locations. Videos show the destruction was widespread.
EASTERN SATELLITE

REGIONAL RADAR

The next issue issue will be the heavy rains that will spread northeastward through Georgia and the Carolinas tonight and Thursday. We have a cold front approaching here that will create downpours and thunderstorms Thursday into Thursday evening. Then it will be a question of how far north does the northern fringe of the rains from Michael get and the cold front it rides will enhance the rains here. Long Island and Central and South Jersey appear to be in line for some rain from this.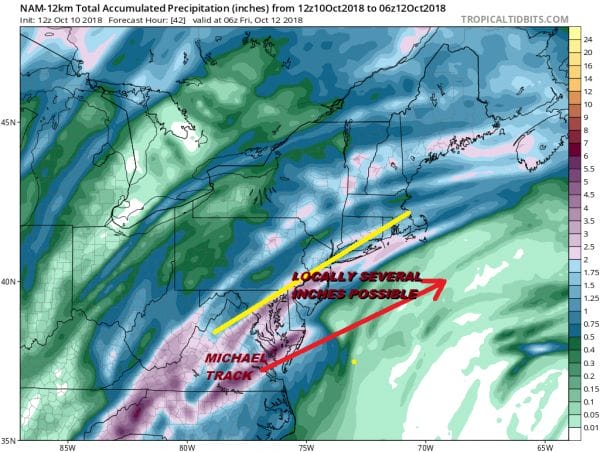 Then there is the question of wind for the coastal areas. Inland areas could get a bit breezy but along the immediate coast northerly gales are likely for Coastal New Jersey and Long Island as Michael passes by to the south early Friday morning.
There are no weather issues for tonight other than clouds and patchy fog. Temperatures will be in the 60s to near 70. Then look for downpours to develop from west to east Thursday morning into Thursday evening. The cold front will be very close by at that point. Michael and the cold front will enhance the rain over areas from Central & South Jersey & Long Island Thursday night into Friday morning before the storm finally pulls away. Very cool air is coming in for the weekend. Saturday look for clouds and some sun. There might be a brief shower Saturday morning with an upper air disturbance. Temperatures will be in the low to mid 60s Saturday. Sunday morning we will wake up to temperatures in the upper 30s to mid 40s.  Sunday we will see some sunshine with highs just in the upper 50s to some lower 60s.
SUBSCRIBE TO PATREON FOR A WEATHER EXPERIENCE FREE OF ADS, EXCLUSIVE VIDEOS FOR MEMBERS ONLY AND MUCH MORE…STARTS AT $2 A MONTH..MESSAGE ME AT ANY TIME

MANY THANKS TO

TROPICAL TIDBITS

FOR THE USE OF MAPS
Please note that with regards to any tropical storms or hurricanes, should a storm be threatening, please consult your local National Weather Service office or your local government officials about what action you should be taking to protect life and property.
LATEST JOESTRADAMUS ON THE LONG RANGE