Hermine What To Expect Updated 12 Noon Sunday
TROPICAL STORM WARNING REMAINS IN EFFECT
FORECAST VIDEO ANALYSIS UPDATED NOON SUNDAY
Hermine What To Expect Updated Noon Sunday 09042016
Tropical Storm Warning Remains In Effect
Coastal Areas Impacted
Inland Much Less
Satellite loops clearly show post tropical storm Hermine off the east coast.The track all day long continues to be to the east. This means when the northward turn takes place it will be further east to begin with and wind up further offshore. This has implications for what to expect and they are outlined below
Watch the radars on Sunday as the rain will more than likely be backing in from the east and not from the south or southwest. The way it looks at the moment the biggest issue will be coastal flooding. Where that center is at the time of high tide will determine the extent of any tidal surge. Sunday evening high tides and Monday mid morning high tides are the two critical tide cycles to pay attention to.

Hermine Impact In New Jersey
HERMINE IMPACT WEST OF THE GARDEN STATE PARKWAY
For New Jersey if you are west of the Garden State Parkway impacts will be very little if anything at all to worry about at this point.
HERMINE IMPACT EAST OF THE GARDEN STATE PARKWAY
Along the New Jersey shore is where you are more than likely to see a short period of gale force winds and some rain. The rain is minimal.  The biggest issue will continue to be coastal flooding
WINDS: NORTHEAST GRADUALLY SHIFTING TO THE NORTH 20 to 25 MPH WITH GUSTS TO 40 POSSIBLE..LOWERING WIND SPEED ESTIMATES
COASTAL FLOODING: TIDES 3 TO 5 FEET ABOVE NORMAL POSSIBLE FROM SANDY HOOK TO CAPE MAY
Look for the rain to back in from off the ocean late Sunday afternoon or evening and continue into Monday morning before slowly diminishing. High tide are Sunday evening and again mid morning Monday.
HERMINE IMPACT LONG ISLAND
Rains will begin in the afternoon over Eastern Long Island first and than back westward lasting into Monday morning before diminishing. Winds are likely to pick up to gale force and continue into Monday afternoon. The strongest winds will be over Eastern Long Island and along the south shore.
WINDS EAST GRADUALLY BECOME MORE NORTHEAST 20 TO 35 MPH WITH GUSTS TO 50 MPH
TIDES RUNNING 3 TO 5 FEET ABOVE NORMAL WEST OF FIRE ISLAND TO NEW YORK HARBOR, 5 TO 7 FEET IN LONG ISLAND SOUND WEST OF PORT JEFFERSON TO THE BRONX AND 3 TO 5 FEET EAST OF PORT JEFFERSON
RAINFALL WILL BE MINIMAL IF ANY AT ALL WEST AND AT MOST A HALF INCH TO 1 INCH EASTERN LONG ISLAND 
HERMINE IMPACT NEW YORK CITY SOUTHERN WESTCHESTER SOUTHERN WESTCHESTER NORTHEAST NEW JERSEY
From rain the impact will be minimal. From wind it will get breezy and gusty at times but not something unreasonable.
WINDS: 15 TO 25 MPH WITH SOME HIGHER GUSTS
RAINFALL MINIMAL
TIDES RUNNING 5 TO 7 FEET ABOVE NORMAL IN THE BRONX AND 3 TO 5 FEET IN NEW YORK HARBOR WITH SOME HIGHER SURGES POSSIBLE OFF THE SOUTHEAST SHORES OF STATEN ISLAND
HERMINE IMPACT COASTAL CONNECTICUT
Here Coastal Connecticut will be on the northern edge of what Long Island gets so it is a tough call. As you go north and west of I-95 impacts will diminish rather quickly. Along the immediate coast rain will develop from east to west during the mid to late afternoon and last into Monday morning. Long Island Sound tides will be the biggest issue
WINDS: EAST BECOMING NORTHEAST AT 15 TO 30 MPH WITH GUSTS TO GALE FORCE
RAINFALL AMOUNTS MINIMAL SOUTHWEST CT AND MAYBE A HALF INCH TO AN INCH SOUTHEAST..THATS A BIG MAYBE.
TIDES 3 TO 5 FEET ABOVE NORMAL EAST OF BRIDGEPORT AND 5 FEET OR HIGHER WEST OF BRIDGEPORT
Clearly the more east track helps a great deal. Still there will be several high tide cycles to get through.
Nice video I did this morning from Fire Island where the waves were huge. Sorry for the second half as the sun glare got to me and i went off camera.
FiOS1 News Weather Forecast For Long Island
FiOS1 News Weather Forecast For New Jersey
FiOS1 News Weather Forecast For Hudson Valley
LATEST JOESTRADAMUS ON THE LONG RANGE
Weather App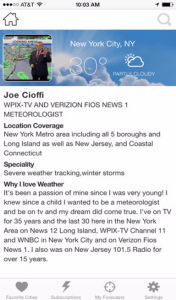 Don't be without Meteorologist Joe Cioffi's weather app. It is really a meteorologist app because you get my forecasts and my analysis and not some automated computer generated forecast based on the GFS model. This is why your app forecast changes every 6 hours. It is model driven with no human input at all. It gives you an icon, a temperature and no insight whatsoever.
It is a complete weather app to suit your forecast needs. All the weather information you need is right on your phone. Android or I-phone, use it to keep track of all the latest weather information and forecasts. This weather app is also free of advertising so you don't have to worry about security issues with your device. An accurate forecast and no worries that your device is being compromised.
Use it in conjunction with my website and my facebook and twitter and you have complete weather coverage of all the latest weather and the long range outlook. The website has been redone and upgraded. Its easy to use and everything is archived so you can see how well Joe does or doesn't do when it comes to forecasts and outlooks.
Just click on the google play button or the apple store button on the sidebar for my app which is on My Weather Concierge. Download the app for free. Subscribe to my forecasts on an ad free environment for just 99 cents a month.
Get my forecasts in the palm of your hand for less than the cost of a cup of Joe!
MENTION JOE CIOFFI AND GET A 5% DISCOUNT