Heavy Rains Moving Northeast Shower On & Off Dry Sunday Snow Ice Rain Monday
Overnight rainfall amounts ranged from about 1/2 to 3/4 of an inch near the Pennsylvania New Jersey state line to 2 inches or more from NYC north and east across Long Island and Southern New England. Various coastal flood advisories are posted for high tides occurring along the New Jersey coast and the Long Island shore lines. Minor coastal flooding is forecast for most areas. Our storm system continues to move northward. While the bulk of the rain is over with there is still some more work to do today as the satellite shows lots of clouds through much of the east. There is a second area of clouds and rain to the southwest that is moving northeastward.
SATELLITE

REGIONAL RADAR

Regional radar shows the two separate areas of rain. The first on is now north and east of NYC and heading away. There are some patchy showers between it and a second area that is now moving into Western PennsylVania and Western NY. Much of this rain will be heading well to the west of our region. Some of the showers might make it into parts of Eastern Pennsylvania later this morning but it should not extend much further east from there.
LOCAL RADAR NEW YORK CITY

LOCAL RADAR PHILADELPHIA

Much of today will be a cloudy day overall with temperatures in the 50s. Once the second system to the west heads up into upstate NY it will intensify rapidly and winds will pick up from the northwest tonight and Sunday. Skies should clear and and better weather is ahead for Sunday. Gusty winds and some sunshine are forecast with highs just in the 40s. Even colder air moves in Sunday night into Monday morning.
The next storm system will be heading our way Monday from the Southern Plains. Low pressure will head into Eastern Kentucky and West Virginia and then redevelop off the New Jersey coast Monday night into Tuesday morning. There will be cold air that will try to get trapped in New England and Upstate NY. Some of that will bleed down into Southern Pennsylvania and into Central and Northern New Jersey as well as Southern New England.
At the moment I'm not particularly worked up over this system. Temperatures are going to be borderline and while there is some suggestion that there could be a longer period of icing issues developing from this (especially inland), the amount of precipitation being produced is not exactly overwhelming.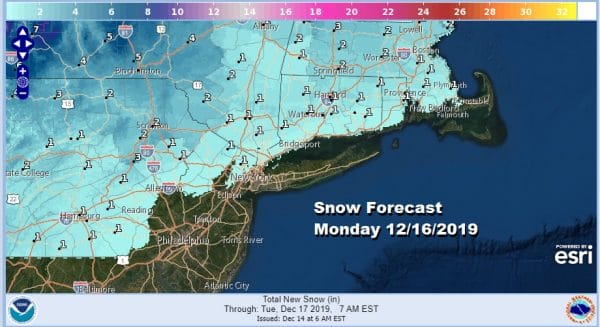 These are the early snow and ice forecasts from the National Weather Service and I would caution that these are the first numbers to pop up. I would suspect that these numbers might get beefed up a bit later today or this evening if the colder looks on some models gains traction.
The other issue will be Monday night and a change to rain. How far north does the ice rain line get? Lots of questions here in a still yet to be determined scenario. There will be more on this on my weather platform on Patreon later today. In the meantime we move ahead to a not so nice Saturday with some more areas of rain around and lots of clouds otherwise and think to a better Sunday though it will be on the windy side.
MANY THANKS TO TROPICAL TIDBITS FOR THE USE OF MAPS
Please note that with regards to any severe weather,  tropical storms, or hurricanes, should a storm be threatening, please consult your local National Weather Service office or your local government officials about what action you should be taking to protect life and property.