Heavy Rains Exit East Severe Weather Risk Friday Spring Arrives
Today is Saint Joseph's Day and the arrival of spring. We are certainly seeing the kinds of weather around the country that you would normally see in early spring. We have a developing storm in Colorado producing snow and blizzard conditions today for parts of the Central Rockies and Central Plains. Severe weather will be occurring across the Mississippi and Ohio Valleys. We had heavy rain overnight that has now moved to the east into New England. The rest of the day we will be sitting with low clouds with an ocean wind and temperatures holding in the upper 40s to lower 50s.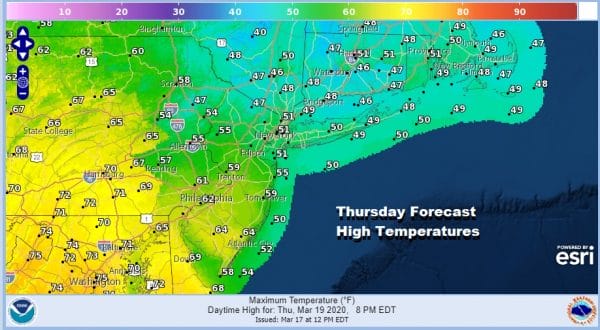 We will be watching a warm front moving northward and struggling to do so which is usually the case in the spring. 70s will reach into Southern Pennsylvania late this afternoon but north and east of there it will be a tougher sell and we may have to wait until Friday morning until the warm front passes.
SATELLITE

REGIONAL RADAR

Overnight we had heavy rain move west to east across Pennsylvania and now that rain is in New England. There isn't much going on to the west and we probably won't see much other than drizzle and fog and maybe some occasional light rain.
LOCAL RADAR NEW YORK CITY
LOCAL RADAR PHILADELPHIA

Tonight as the warm front moves northward there could be some showers especially north and west of the coast. That front should move through early Friday morning. Clouds and fog should give way to some sunshine and warmer temperatures. Highs will reach the 70s from NYC south and west and 60s to near 70 north and east of NYC.
We have a cold front that will be moving through later Friday with the chance for a few scattered showers and thunderstorms. The Storm Prediction Center has expanded the area of marginal risk from yesterday to cover areas from Ohio to Western New England and southward into Maryland.
Once the front moves through we will turn colder over the weekend though it will be dry with some sunshine for both Saturday and Sunday. Highs Saturday will be in the upper 40s and lower 50s. Sunday's highs will be just in the low to mid 40s.
MANY THANKS TO TROPICAL TIDBITS FOR THE USE OF MAPS
Please note that with regards to any severe weather,  tropical storms, or hurricanes, should a storm be threatening, please consult your local National Weather Service office or your local government officials about what action you should be taking to protect life and property.