Heavy Rain Potential From Tropical System Marginal Risk Severe Weather Friday
Attention today shifts to the south as low pressure is developing off the North Carolina coast this morning. This system has the potential to become a tropical cyclone in the next 24 hours as it moves slowly northward but the key to this likes in whether the developing surface low remains offshore over the very warm waters east of the Carolinas. While the satellite this morning does show quite a bit of convection offshore, the center of low pressure remains in an area where not much is happening at the moment.
SATELLITE

REGIONAL RADAR

Meanwhile here in the Northeast today it will be another very warm to hot day with the chance for a scattered shower or thunderstorm in the afternoon or evening as highs reach the upper 80s to some lower 90s. Humidity is very high as the atmosphere essentially preps up for the arrival of the coastal low/tropical system for Friday.
We have the usual array of disagreements with weather models as the grapple with the low track either straddling the coast or just offshore (European/Icon/Canadian. In reality the designation here of this system as a tropical storm could be more a technical one since the resulting weather of heavy rain and some gusty winds along the coast will happen even if this never achieves a name. Rain arrives in Southern New Jersey and Southern Pennsylvania during the early morning hours Friday and reaches Northern New Jersey Northeastern Pennsylvania to Southern New England and Long Island around midday.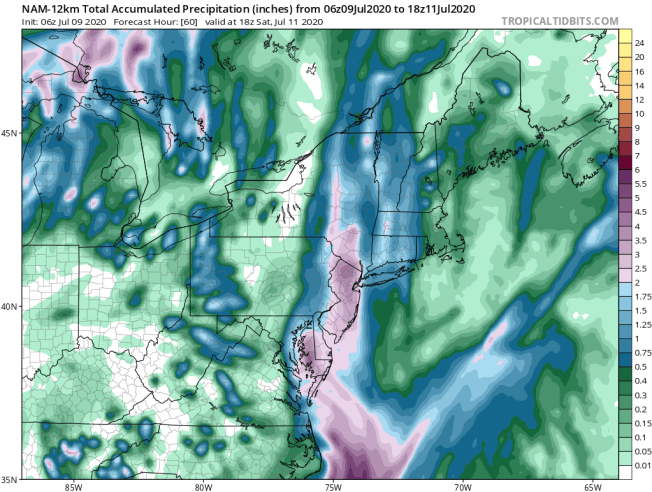 There will be a narrow band of 2 to 3 inch rainfalls (and perhaps some locally higher amounts) just to the west of the low track. To the east we see rain amounts tail off but I would be very cautious here since the low track is so close to the coast a shift of a few miles east could bring flooding rains to areas east of NYC as well.
We should also note that the tropical low will create a very unstable atmosphere and we will have a strong inflow from the southeast which will be loaded with moisture so it should be no surprise here that the Storm Prediction Center has a marginal risk of severe weather indicated from New Jersey to Southern New England and this entire area is also under a 2% risk for tornadoes which are not uncommon in situations like this.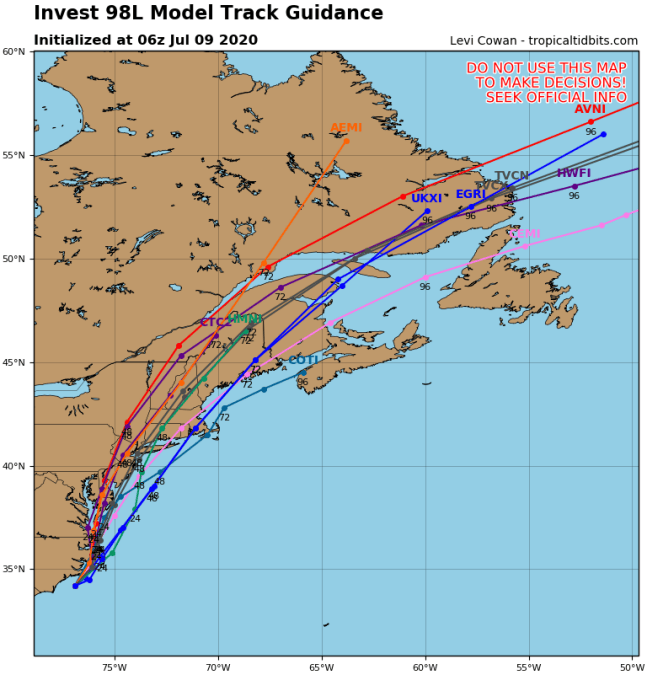 Hurricane tracking models show a tight cluster of tracks in and around NYC with half going just west and half going just east. This looks to be a 8 hour or so rain event and it will produce a widespread rainfall which should put an end to the dry conditions we have here in the Northeast once and for all. Weather conditions will improve later Friday night from south to north and then it is on to the weekend. Saturday and Sunday will be very warm to hot and humid days as this system won't do much to bring dew points down significantly. We will leave the chance for a pop up shower or storm Saturday and Sunday. Highs will be in the 80s to near 90 degrees both days.
The upper trough that is driving the Friday system northward will be lingering to our west over the weekend and on Monday it will swing eastward and strengthen some. It looks like a a stronger cold front will approach and we do seem to have a set up for severe weather risks in the Northeast south to the Northern Mid Atlantic states. We will be reviewing these prospects once we get through tomorrows rain and coastal winds.
MANY THANKS TO TROPICAL TIDBITS FOR THE USE OF MAPS
Please note that with regards to any severe weather,  tropical storms, or hurricanes, should a storm be threatening, please consult your local National Weather Service office or your local government officials about what action you should be taking to protect life and property.